Find more restaurant reviews with our Google map
Address: 466 Queen Street
Phone: (09) 362 0655
Website: legardemanger.co.nz
Cuisine: French - creperie and cafe
Rating: 6/10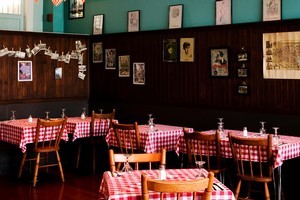 The top of Queen St is predominantly the domain of Asian-style eateries these days but in the midst of these, lies a small French working class style cafe and creperie, Le Garde-Manger.
It's a quaint little restaurant by our standards but larger than most establishments of similar style in France. The wooden floors, dark wall panelling and lampshades draped in red and white gingham cloths all add to the authentic feel of the place.
A printed menu details an assortment of crepes and many traditional and rich French classics, while a blackboard menu announces the nightly specials. There are plenty of options to choose from and, zut alors, the prices are kept attractive. Main dishes of beef bourguignon, coq au vin and duck a l'orange are all on offer at under $25.
The chilly wind outside has me in need of warming up and the French onion soup does the job nicely. A respectable bowl of this hearty French classic of caramelised onions and sturdy beef stock is topped with a crusty crouton deliciously smothered in melted cheese.
My dining friend decides to try the escargots. The half dozen arrive, served in the cute ceramic indented dish, purpose-built to house snails, and they're tender and tasty nestled happily in a melted butter, garlic and parsley sauce. Mopping this up with the crusty bread is a joy in itself.
For our mains we ignore the galettes in favour of that king of the classics, coq au vin, and the rabbit casserole.
But when our meals arrive we have to work hard to keep the surprise off our faces. Both are clumsily presented, bearing no semblance to what you'd expect from a restaurant - even a casual one. This is taking home-style too far.
Flavour-wise, they are a different story. My slow-cooked chicken stew is rich and deep in flavour and falls away from the bone. The gravy is a heady mix of red wine and hard herbs. It is a shame it has been thickened with a heavy hand. The potatoes that accompany my stew are glorious; waxy, twice cooked - boiled then lightly roasted.
Meanwhile my eating comrade is very much enjoying his rabbit casserole.
A lightly floured leg has been pan-fried by the look and taste of it, then cooked in a thyme and moutard (mustard) creme sauce and served with a sizeable block of dauphinoise potatoes. Magnifique.
Most of my favourite desserts come from the repertoire of French classics and Le Garde-Manger's menu includes three of them - creme brulee, crepe suzette and tarte tatin. We order them all. Just as well because only one is truly outstanding.
The crepes suzette are a lazy rendition of such a magnificent dessert. Although it is impressively flambeed at the table, this one is dry and tough.
The tarte tatin has suffered a worse crime. The caramel has been cooked to way past the acceptable dark caramel and had taken on a far too bitter taste as a result. Thankfully the creme brulee is just as should be.
I'd make a return visit to Le Garde-Manger but I would just adjust my expectations from bistro to more modest rustic fare.
I've had far worse meals in France and still loved them because, somehow, the romance makes up for a multitude of sins.
From the menu: Les escargots (doz) $9.50, French onion soup $9.50, coq au vin $22.50, rabbit casserole with gratin dauphinoise $24.50, creme brulee $9.50, crepes suzette $11.50, tarte tatin $7.50.
Drinks: Fully licensed.