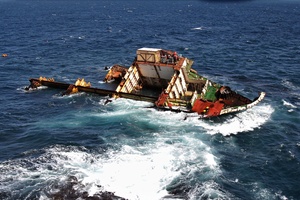 Ratepayers or the Napier Port could be levied to bump up harbourmaster insurance cover to $100m following a review of the Rena shipwreck in Tauranga.
Hawke's Bay Regional Council, the owner of the port, was told it was one of the "more risky" ports in the country because of the tight turning manoeuvres to access and the possibility of ships hitting a reef.
An assessment said the port was among the highest ranked for oil spill risk because of its geographical location, but it was not a reflection of the way it was operated, managed or staffed.
The council has completed an 18-month review of its harbourmaster liability insurance cover, prompted by the Rena disaster in 2011.
The results were presented to the council on Wednesday by its compliance and harbour manager Bryce Lawrence.
The council currently paid a premium of $22,000 for harbourmaster insurance cover of $25m but Mr Lawrence's review said that level left the council "exposed".
Northland and Wellington had increased insurance cover to $100m and Mr Lawrence recommended Hawke's Bay followed suite.
"Our legal opinion is that $25 million is not adequate and to put things in context, the Rena cost around $275 million. Had a harbourmaster been responsible for causing that, then the regional council, who employed him, could be exposed to that cost."
It was believed larger shipping vessels had insurance cover but some of the smaller ones might not. There was no way for the council to inquire which ships had insurance, or to what level.
"If a ship (with no insurance) was to wreck on the reef, the council would be responsible for that.
"But it's not just the cost of removing a wreck, if we cause the loss of a $800m cruise liner, we are exposed to that as well."
Mr Lawrence said there was no upper liability level set for harbourmaster liability insurance cover. It had also taken six months just to get an updated insurance quote.
Councillors struggled with the idea of increasing cover for an incident which may not happen. Some thought tighter performance reviews of the harbourmaster a better option.
It was agreed in principle to provide $80,000 but who should pay for it would be determined prior to the final approval of its 2013/14 annual plan in June.
For more articles from this region, go to Bay of Plenty Times