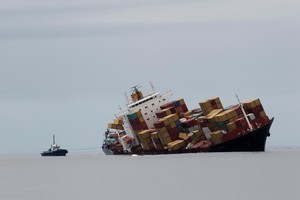 Maritime New Zealand is warning recreational boaties to remain clear of Bay of Plenty waters to ensure they don't drag oil from the cargo ship Rena into cleaner areas.
58 containers from Rena remain unaccounted for from the 88 that were lost overboard last month.
Maritime NZ says 15 have been recovered, while a recovery operation is underway for seven that have been found washed ashore.
Oil leaks continue
Oil was expected to wash ashore along Papamoa beach today as the stricken ship Rena continues to leak oil.
There have been no fresh reports of oil overnight but Maritime New Zealand national on-scene commander Nick Quinn said small quantities were continuing to leak from the ship.
The oil could be leaking from the ship's duct keel, or from pockets where it had previously been trapped, or both.
Mr Quinn said the oil had caused a light sheen round the Rena and northeasterly conditions meant it could head ashore today or tomorrow, with some oil landing along Papamoa.
Aerial monitoring of the oil sheen around the ship and the Bay of Plenty coastline was continuing.
Shoreline clean-up assessment teams were working around Matakana Island and other areas this morning while Defence Force personnel would check up to 50km of coastline for oil deposits.
Volunteer beach clean-up efforts would also continue today.
Salvors working to recover oil from the listing ship hope to start pumping out water from around its submerged starboard fuel tank later today.
Maritime New Zealand salvage unit manager Kenny Crawford this morning said salvage crews had installed the second part of a dam that would allow them to access the starboard five tank's manhole.
Once salvors finished sealing the dam they could begin to pump water from the space.
Pumping oil from the vessel's other tanks continued overnight.

- APNZ