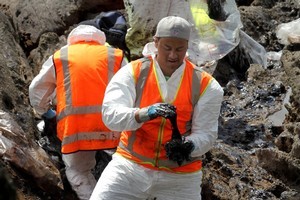 Around 60 tonnes of oil has been pumped from the cargo ship Rena overnight as the slow task of removing the stricken ship's fuel continues.
Meanwhile Bay of Plenty locals are being urged to post pictures of their restored beaches on Facebook as tourism operators battle damaging perceptions that the region's entire shoreline is blackened with oil.
With the extra 60 tonnes removed from the vessel overnight, the total oil pumped from the ship now stands at around 150 tonnes.
Salvage Unit Manager Bruce Anderson said the pumping operation was making slow but steady progress.
"The overnight crew will be replaced this morning and pumping will continue today. The salvage crew also intends to do sounding tests on the tanks which will provide us with a more precise figure of how much oil remains."
Dr Anderson said the wind was forecast to increase later today, but conditions were good this morning.
"We will continue to monitor the weather to ensure the salvage operation is safe.
However, we will take advantage of the good weather while we can.
"The good news is the forecast is for fine weather for the rest of the weekend."
Tourism hit hard
Tourism operators have suffered cancelled bookings over the Rena disaster, and a marketing strategy is being compiled to tell the world Tauranga is still open for business.
Though the surf at Mt Maunganui's famous Main Beach remained off-limits yesterday, locals were sunbathing and playing volleyball.
Aside from a few rocky shores and "collection points" where the black ooze was gathering, there was now little oil on most of the closed coastline between Mt Maunganui and Maketu.
Tourists visiting from the cruise ships Pacific Dawn and Rhapsody of the Seas were surprised at the spotless beaches, having expected the worst after reading of the disaster in newspapers.
"I expected it to be far worse and I think the volunteers should be very proud of themselves," said Lyn Gadd from Twickenham, England.
Another tourist, Richard Helms, was also impressed: "The beaches look pretty good."
Tauranga Chamber of Commerce chief executive Max Mason said his wife wanted to take pictures of oil-soaked beaches when she returned from Argentina yesterday.
"It's a good example of how people out there think this place is completely devastated, but it's a misconception."
Mr Mason said that while a range of businesses were directly affected, from crayfishing firms to surf schools, there was also concern in the city's tourism sector.
"You'll probably find there won't be any further impact on the accommodation sector if we can pump all of the oil off, but, of course, if this thing drags on then there will potentially be one," he said.
"Right now, they're doing okay because of the media, the clean-up crews, the army and all the rest of those staying in town, but it's the medium term they are particularly worried about - and it would go through to impact on retail and hospitality as well. At this stage, there is a lot of frustration."
He noted that about 41 per cent of visitors came to the region to see family and there was more to do than go to the beach.
"Tauranga is open for business right now and that's the message we are trying to get across, nationally and internationally, to overcome some of these horrible images we have been seeing."
Tourism Bay of Plenty general manager Glenn Ormsby said there had been inquiries from tourists looking to visit Tauranga, "but we are trying to turn them into positives".
Mount Mainstreet manager Leanne Brown said a lean summer could put many businesses in dire straits.
"We need to change that perception. There was a report of one person calling from Japan asking if it was safe to come here."
Clean up continues
National On Scene Commander Alex van Wijngaarden said shoreline clean-up work continued today, with the focus on Mount Maunganui's main beach and at Papamoa.
Clean up teams would also be assisting iwi at Maketu and Waihau Bay.
"We are seeing a lot of debris from the containers washing up in the eastern Bay of Plenty," Captain van Wijngaarden said.
"We have deployed a significant amount of equipment, along with shoreline clean-up specialists to lead volunteers there. As always, we ask members of the public to work with the response teams to ensure a methodical and safe clean-up."
The main Mount Maunganui Beach will remain open for public access, but not for swimming.
Shoreline clean-up assessment teams have confirmed that earlier reports of oiling at Whakatane Spit and Ohope Beach are incorrect.
The Wildlife Response Unit has established a staging unit in Te Kaha with capacity to take in 100 animals.

COUNT IT UP
* 800 bags of oil were collected from Maketu yesterday as reports came in that more oil had been sighted at Whakatane and Ohope. Oil buried 20cm below the sand was also resurfacing in the water in areas between Mt Maunganui and Papamoa, keeping the beaches closed.
* 9 salvors were on board yesterday as a booster pump blew up and caused another setback to removing the Rena's remaining 1260 tonne oil load. Another booster pump was flown in to replace it. With fine weather forecast, salvors have a five-day window to pump off as much as possible.
* 88 containers have fallen overboard. Of those, 29 remain unaccounted for.
CLEAN-UP ON THE ISLANDS
MATAKANA ISLAND
Matakana Island clean-up project co-ordinator Donna Poka said the beach had largely escaped the black tides that rolled in to Papamoa over a week ago.
"The stuff we're getting is like cow pats, it's a different situation to Papamoa," she said. "We know in some respects we have been fortunate that the tidal movements have washed if offshore."
She said while keeping the 20km long beach clean would be a challenge for islanders, there had been no shortage of help.
A crew of mainly foreign Greenpeace volunteers from Katikati helped for a while and about 50 students from Waikato University were ready to help.
But Ms Poka implored those keen to come to ensure they were given appropriate training at the iwi response centre in Tauranga.
"Really it is back-breaking work and it really isn't appropriate for children to be here."
Ms Poka said the islanders had cleared two skip containers of debris and splotches of oil.
MOTITI ISLAND
The people of Motiti Island have looked out to sea with a sense of hopelessness and inevitability.
"We, the hau kainga [local people], know how it rolls out at that reef," said Hiraina Dixon of Tamatea ki te Huata marae. "We know when it's a northerly or a nor'easter, the waves are 4-5m - so a storm with a northerly is going to smash that ship, it's definitely going to break it up."
Cleaning crew have been at Wairanaki Bay collecting up to 70 big bags of rubbish daily that include bundles of plastic, deer hides, big balls of butter and rotting meat that continue to roll ashore. And then there is the oil that clings to the rocks.
"We have just had paint scrapers and our whanau have been going down and scraping the thick crude oil off the rocks - no one has come over to actually show us how to clean the rocks or anything."
Ms Dixon said a doctor was due to arrive at the island today to tend to a number of people complaining of nausea, skin irritations and headaches.
MAYOR ISLAND
A working bee held every Labour Weekend at Tuhua (Mayor Island) has been put on hold because containers from the Rena that fell overboard have not been found.
Tuhua Trust Board spokesman Jason Ake said the island normally held a working bee ahead of the peak summer season when people could visit the island for $5.
"But the skipper of the barge was not satisfied the shipping lanes were clear of containers, so he's not willing to risk his boat and we are not willing to risk the people going out there to do the mahi [work]," he said.
"Our focus is to keep the island in pristine condition but our efforts will have to wait."
The island, a predator-free wildlife reserve since 1953, is home to many native birds and the waters off the island boast some of the best diving in New Zealand.
Maritime New Zealand spokesman Miles Irwin said there were no reports of oil or debris affecting wildlife or the island, which is about 20km north of the Astrolabe Reef.