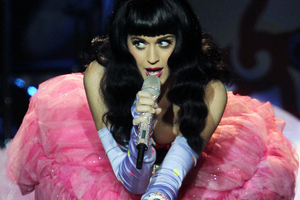 Katy Perry is being comforted by Russell Brand in the wake of her split from John Mayer.
The Firework singer has sent a text message to her her ex-husband for advice and support since her eight-month romance with Mayer broke down last month.
A source told RadarOnline.com: "Katy reached out to him after she split with John, bemoaning her luck with men and Russell provided her with some much-needed reassurance."
It has previously been claimed Mayer was not happy that Perry was still on such friendly terms with Brand - who she split from in December 2011.
The musician had allegedly grown tired of Perry's endless comparisons between Brand and himself, while the pop beauty hated his constant flirting.
A source said: "Katy was unhappy that John constantly flirted with other girls and played up his heart-breaker image. But Katy gave it back. She knew that she could push John's buttons by comparing his flaws to what she saw was great in Russell, which he hated!"
Perry and Brand married in India in October 2010 and their divorce was finalised in July 2012.
- BANG! Showbiz