Civil weddings banned although a civil marriage performed overseas is recognised so couples are taking flight.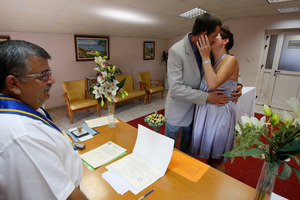 The Cyprus Airways flight from Beirut arrives at 9.15am, disgorging bankers and traders, shuttling between two of the Mediterranean's business hubs.
Among the suits and leather jackets are couples, looking shy and rather tense, perhaps as if they are about to take a bungee jump into the unknown.
Born in Lebanon to different religions, they come to Cyprus to get married, defying the edicts of the priests or mullahs who oppose mixed marriage and civil unions - and often risking exclusion from their families, too.
Religious marriage is the only wedding that is performed in Lebanon, a mosaic of 18 official faiths encompassing 4.2 million people.
Without the approval of the local Muslim, Christian, Druze or other official of your religion, you cannot get married there. Civil weddings in Lebanon are banned, although a civil marriage performed abroad is recognised.
This setup has made Cyprus, just a 45-minute flight from the Lebanese capital, a last throw of the dice for young lovers of mixed religions - and a chance for entrepreneurs to make money.
For around €1500 ($2350), a couple fly to Larnaca in the morning, are whisked to a town hall to be married in the presence of two witnesses, then on to the Lebanese embassy for registration of the marriage and afterwards to a four-star hotel where they have use of a room for six hours before being driven to the evening flight home.
Lebanon's religious-only marriage has roots dating back centuries.
Supporters say it gives equal status to all religions, providing balance in a country where the state is weak and risk of feuds is always present.
Detractors say it simply entrenches dogma, the fuel for sectarianism.
Lebanon, they argue, needs a Western-style secular arena, where one's religion is irrelevant as far as officialdom is concerned.
Liberal sentiments are strong in Beirut, the party capital of the Middle East, famous for its mini-skirted girls, gay bars and couples who live out of wedlock in an otherwise conservative region.
One supporter of legislative change is President Michel Suleiman, a Christian, who in January said he would "respond to the evolution and aspirations of the people and prepare the appropriate laws" for civil marriage.
But the Lebanese head of state is only a figurehead and Parliament is weak, with parties formed along lines of religious affiliation.
Suleiman was rebutted by Lebanon's top Sunni, the Grand Mufti Sheikh Mohammed Rashid Qabbani, who decreed any Muslim who even supported civil marriage legislation would be declared apostate.
Attempts at legal reform date back a dozen years, but each has foundered on opposition from religions.
Jad Chaaban, an assistant professor of economics at the American University of Beirut, says money is a big factor. Wedding-related fees alone bring in some US$33 million ($40 million) to the religions each year, he estimates.
Other income comes from religious divorces and burials.
"It is a profitable business. [They] are afraid of people going out of their system. They're afraid of losing donations and the people they rely on."
The latest assault on the monopoly has come from a young couple who have removed their religious affiliation from their ID cards, hoping that this provides a loophole in a 1936 law, passed when Lebanon was governed by France.
Their marriage by a mayor has been approved by the Justice Ministry but the far more powerful Interior Ministry has the final say.
In the meantime, the wedding shuttles will continue.