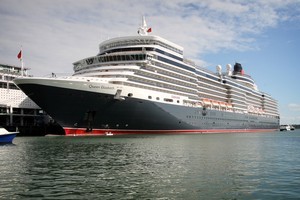 Their cruise ships have hosted countless honeymoons for British newlyweds.
Now Cunard is moving into the wedding business itself by allowing couples to marry at sea on board its liners at an estimated £1500 (NZ$3107) a time.
But a quirk in marriage laws means the move will break a link with 170 years of maritime history, as the registered home of the luxury liners has had to be shifted from Southampton to Bermuda.
Carnival, the American company which owns Cunard and a number of other cruise firms, carried out 2200 marriages on its ships last year.
However, British law does not allow ocean-going ships to be used for weddings because they are not accessible for members of the public who want to object during the ceremony.
As Bermuda's laws do allow captains to perform weddings at sea, the move means Queen Mary 2, Queen Elizabeth and Queen Victoria will now set sail with the name of the Bermudan capital of Hamilton - rather than Southampton - on their hulls.
Southampton MP John Denham said: "A lot of people are deeply disappointed and very upset by this decision."
But Peter Shanks, of Cunard, insisted: "The ships will continue to fly the traditional Red Ensign and will continue to sail in and out of Southampton.
"Passengers will still see evidence of our proud links to the Royal Family on board and they will still be able to enjoy our British pubs and British ballrooms. In fact, they will not notice an iota of difference."
- DAILY MAIL