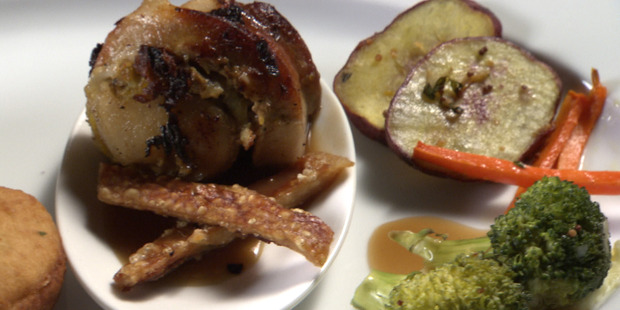 Serves 4
• 8 strips of pork (taken from pork belly)
Stuffing
• 2 carrots
• 1 kumara
• Slice of pumpkin
• Small potato
• 6cm piece of ginger
• 1 dsp fresh thyme
• 1 dsp fresh coriander
• 1 dsp chopped fresh basil
• 1 clove of garlic, crushed
• Salt & pepper to season
• Oil to combine


1. Preheat oven to 200C. Cut the skin off the pork and place on a baking tray. Cover each strip with a little oil and sprinkle with salt. Place in oven until crisp and crackly.
2. Grate all stuffing ingredients into a bowl, and add the finely chopped herbs and crushed garlic. Combine, adding a few drops of oil to bind the stuffing together. Roll into 4 portions with your hands.
3. Cut a metre length of cling wrap and lay on the bench.
Lay two pork strips in middle and place stuffing about 2cm down from the top. Roll down, making sure the cling wrap is tight - cut it off quarter of the way down leaving enough to seal the ends. Twist the ends and fold over the meat, and seal the end with the remaining piece of cling wrap at each end.
4. Repeat until all the strips are rolled. Place in boiling water and poach for 30 -35 minutes. Remove from water and rest the rolls for 5 minutes. Then remove from the cling wrap, and brown off in hot canola oil.