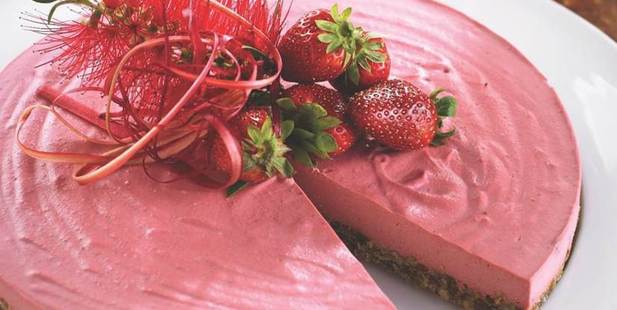 For the base
• Zest of one lime
• 6 dried apricots, chopped
• ¼ cup sunflower seeds
• ¼ cup pumpkin seeds
• ¼ cup sesame seeds
• ½ cup almonds, soaked in water
• ½ cup desiccated coconut
• ¼ cup tahini (unhulled if possible)
• ½ tbsp filtered water
For strawberry cream filling
• 100g cacao butter
• 2½ cups raw cashew nuts, unsalted
• 1 inch of vanilla stick
• ½ cup maple syrup
• Juice of 1 lime
• 2 punnets fresh strawberries


To make the base
1. Add all base ingredients to a food processor and blend until it forms a crumb.
2. Press the dough between your fingers to check that it will stick together.
3. Line a 20cm tart tin with base mixture by pressing in with your fingers.
For strawberry cream pie filling
1. In a small saucepan, melt cacao butter. Allow it to cool.
2. In a blender or Vita-mix, blend cacao butter, cashews, vanilla, maple syrup, lime juice, and strawberries until smooth.
To assemble
1. Pour strawberry cream pie filling on to your base mixture.
2. Spread evenly with a spatula to achieve an even surface.
3. Freeze until it is firm to the touch.