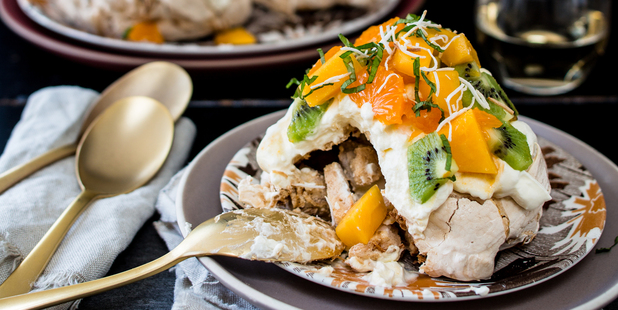 Makes 4
• 4 egg whites
• 1 cup caster sugar
• 2 tsp cornflour
• 1 tsp white vinegar
• 2 tsp dark espresso
• ½ cup toasted coconut
Topping
• 200ml cream, whipped
• 1 pawpaw
• 2 mandarins, segmented
• ¼ cup toasted coconut


1. Set oven to 140C.
2. In the large bowl of an electric beater, beat egg whites until light and fluffy. Add sugar, cornflour and vinegar.
3. Beat for 8 minutes until thick and glossy. Gently fold espresso and coconut through.
4. Line a baking tray with paper and draw 4 x 10cm circles. Pile meringue mixture evenly on these. They will seem high but will spread.
5. Put the pavlovas in the oven. Cook for 50 minutes until they are hard when you tap the shell. Turn oven off and leave them in there until cold. Overnight is perfect.
6. When ready to serve, top with cream, fruit and toasted coconut.
-VIVA