Grant Allen goes behind the scenes in the Shortland Street kitchen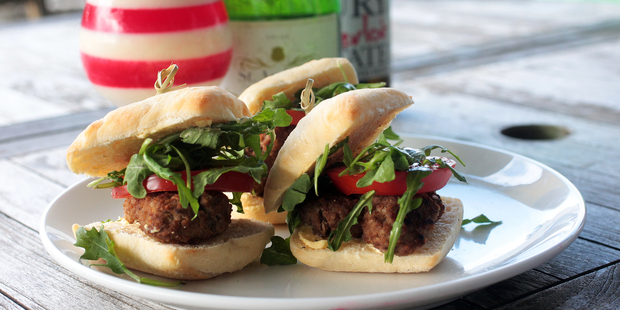 These trendy little bites make good party food.
Makes 10
• 300g of minced beef, lamb, pork or chicken
• 1 egg
• 2 Tbsp butter cut into little dices (this helps keep the meat moist)
• 2 Tbsp fresh herbs of your choice, finely chopped
• A dash of tomato or sweet chili sauce
• ½ cup of breadcrumbs
• Salt and pepper


1. Mix all the ingredients together, by hand is best. Form the mixture into little meatballs and refrigerate for half an hour to firm up.
2. Heat some oil in a heavy based pan and, after rolling the balls in a little flour, cook off to colour a little.
3. Transfer to an oven dish and continue cooking in a medium oven until done. This will take around 15 minutes. Test by piercing the meatball, it needs to be cooked right to the middle if you are using chicken.
4. Buy slider, mini ciabatta or mini burger buns from the supermarket.
5. Slice and spread with mayo.
6. Fill with rocket leaves, a slice of tomato and the meatball.
Chutney or relish could also be added.