Grant Allen cooks up a Brazilian feast using a barbecue prize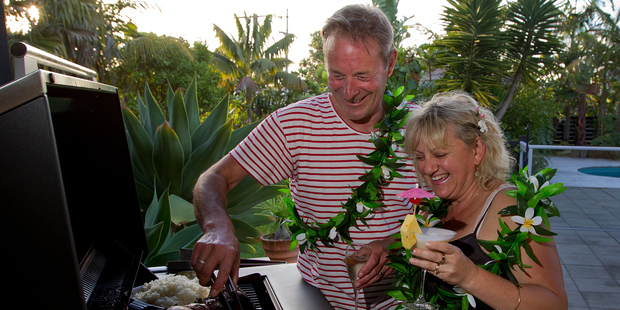 As well as winning a Herald on Sunday barbecue prize, Aucklanders Deb and Dave Moncur had the pleasure of hosting me, on site, cooking for them and their friends.
They won a swish new Electrolux barbecue and some outdoor furniture from Citta, and I worked out a menu using ingredients from my favourite suppliers (Grey Lynn Butchers and Art of Produce). I trucked up to Deb and Dave's place last Sunday afternoon.
Arranging the event over chatty emails to Deb, everything pointed to this being a a fun evening, and I was right.
I was warmly welcomed and shown the new barbie. Dave, an engineer, thankfully, had assembled it and had it working well. I went into the kitchen with bubbly cooking enthusiast Deb, and started prepping.
Rapid instructions were fired to her kids to get things set up, and Dave was briefed about being a good host.
Deb had instructed her friends to dress up for the occasion, but something got lost in translation and they all arrived in Hawaiian style for a Brazilian barbecue.
No matter, with the guests' personalities, you could turn any event into a carnival. Auckland Airport fire safety manager Matt had spent several hours on Google learning how to tie a sarong; he was a Mardi Gras all on his own.
I thought it would be a good idea to cook a barbecue that was not about sausages and steak. Taking inspiration from South American Grill, a book I have been teaching from at Cook the Books, I decided to take a South American approach.
South Americans know how to cook with fire. They grill meat and fish over a low heat, brushing it with aromatic flavours, then serve it with beans, rice, zinging fresh sauces, pounded out in a mortar and pestle, and just-cut salad.
All this hit the mark with Deb and Dave's friends. They all love cooking outside, all fish and understand fresh is best. And they like sitting around a table and having a good time. What could be more Latin?
This Easter weekend the weather is still sultry. Invite some friends over for a Latin grill. Theme the party, play some samba tunes, relax, keep the food simple, fresh and fun. Sit around an outdoor table and celebrate life.
With a pool, outdoor fireplace and spirited guests wearing leis and flowers behind their ears, we couldn't have had more appropriate winners or a better party setting. We had fun.

Recipes
• Hornado de chancho marinated roast pork leg
• Arroz branco Brazilian rice
• Feijo black bean stew
• Vinagrete Brazilian salsa
• Pudim de leite Brazilian creme caramel

Join Grant on Facebook