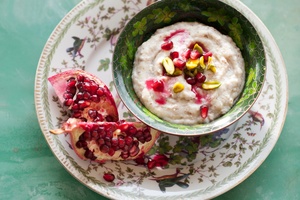 Serves 6
• 35g (cup) rice flour
• 750ml (3 cups) milk
• Pinch of salt
• 55g (cup) sugar
• 80g (cup) ground almonds
• 1 Tbsp rosewater
• Pistachios or almonds, to serve
• Pomegranate seeds, to serve, optional

1. Mix the rice flour in 185ml (cup) of the milk.
2. Bring the remaining milk to the boil in a heavy-based saucepan. Stir in the rice flour mixture, salt and sugar.
3. Stir constantly with a wooden spoon over medium heat until the mixture bubbles gently.
4. Reduce the heat and simmer gently for 5 minutes, stirring often; it is important that the mixture cooks slowly.
5. Stir in the ground almonds until smoothly combined. Stir in the rosewater and remove from the heat.
6. Stir occasionally until the mixture cools a little, then pour into a serving bowls.
7. Chill the puddings and serve garnished with nuts, and pomegranate seeds if available.