Fresh, flavourful, health-giving ingredients will add some pep to your step.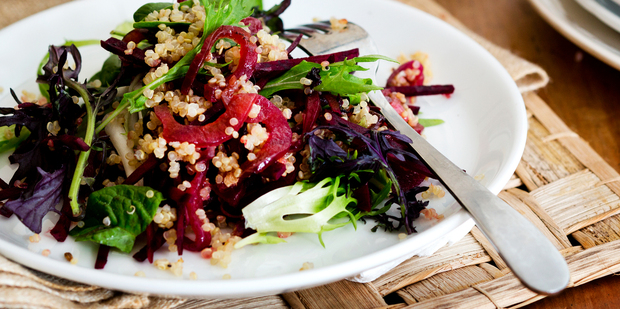 This is the ideal time of the year to start to spruce up for summer. In the cold months of winter we are all drawn to comforting foods which, as the weather starts to change, can work to leave you feeling sluggish. Looking for lighter, healthier options should be priority right now. That's why today I've created recipes that scream with flavour, texture and fresh vitamin-fuelled ingredients that will have you feeling well and bursting with energy.
The first recipe uses quinoa - a name that people always find hard to pronounce (it's keenwa) - a gluten-free wholegrain that can be boiled and used like rice or, cooked first then toasted in a pan for more flavour. I have paired it with all the goodness of fresh ginger, shredded raw beetroot, lemon and sesame for flavour. It's a delicious salad and would be even more flavoursome if you add grilled salmon or shredded duck meat.
It is so good to see ripe avocados in the stores right now, all so full of flavour.
Avocados contain mono-unsaturated fat and because of their rich buttery texture can be used in cake recipes and also instead of butter on toast. (My favourite quick breakfast on the run is, in fact, avocado and tomato on marmite toast with plenty of salt and pepper.) They are full of fibre, potassium, vitamins B and E, and folic acid which adds up to a supreme vegetable. Today I've combined avocado with crab meat for a fresh and tasty salad.
Crab meat is high in vitamin B12 and folate. Crab meat has become more readily available and not nearly as expensive as it used to be. Ideally you would catch your own and dig the sweet meat out from the claws.
Whole crabs are easy to find but you can use tinned crab meat as a back up.
The last recipe is inspired by a recent trip to a refugee festival. The sun was shining, the music was fantastic, the food was interesting and delicious but one stall stood out for me. It was selling an island smoothie - 'otai - made from crushed watermelon (you could use rock, or honeydew, depending on what is available), mixed with fresh coconut, coconut water, honey and ice cubes, poured into a large cup. It was so delicious to sip in the sunshine; a healthy offering and a much better alternative to fizzy drink for the children.
Coconut water is currently being hailed as the laste wonder drink and you can buy it in stores. It is has a unique way of making you feel instantly rehydrated as soon as you have a drink. It is a natural isotonic, full of vitamin B12 and detoxifies and cleanses.
Chef's tip
All the ingredients for these recipes need to be as fresh and as ripe as possible in order to appreciate the optimum vitamin and mineral content.