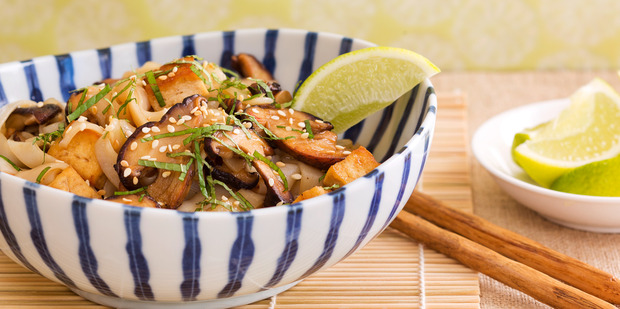 Serves 4
400g rice noodles
1/4 cup vegetable oil
200g soft tofu, cut into small squares
200g shitake mushrooms - sliced, preferably fresh but if dried reconstitute in boiling water until soft then drain
1 Tbs fish sauce
1 cup chicken stock
2 Tbs soy sauce
2 tsp chilli oil
2 tsp palm sugar, chopped
1 Tbs sesame seeds, toasted
Mint leaves to serve, shredded
Fresh lime
1 Pour boiling water over the rice noodle and soak for 15 minutes until soft. Drain in cold water and cut into 10cm lengths.
2 Heat a fry pan or wok then add the oil and when hot add the tofu and fry until golden on all sides. Remove and let drain on kitchen paper.
3 Add the mushrooms and cook, while stirring, for approximately 5 minutes or until tender.
4 Add the fish sauce, chicken stock, soy sauce, chilli oil and palm sugar. Add the noodles then toss together gently for for 5 minutes.
5 Serve in warm bowls topped with toasted sesame seeds, fresh mint and wedges of lime.