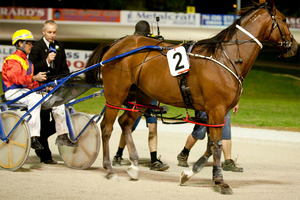 Trainer Dave Kaa is hoping some David Butcher magic helps keep Angelina Jolie unbeaten in the $110,000 Caduceus Club Classic at Alexandra Park tonight.
The Cambridge filly has looked a class act in three starts, including winning at group two level last start, but faces a tricky draw in tonight's group one.
She will start from one on the second line, which didn't make trainer Kaa smile when he first saw it but he has become far more relaxed about it as the race looms.
"It is not great but then again, how often does David [Butcher] get locked away on the markers when he doesn't want to be there?" said Kaa.
"So I am confident he can work some of his magic and get off there early and then it could work out to be a good draw.
"And the draw is nowhere as bad as one on the second line would be over 1700m."
Kaa knows all he can do is have Angelina Jolie as ready as she can be. On that front he has no concerns.
"She is really, really well," he told the Herald.
"I took her to the workouts a week and a half ago and David was so happy with how she went he reckoned we didn't need another trial last weekend.
"So I am going into the race happy with her."
The fillies crop is only now starting to warm up and tonight's race is the first leg of a Triple Crown which will more definitively sort out the pecking order among the baby girls.
Martine Maguire and Rocknroll Arden have looked tough fillies but they have drawn wide tonight so will need luck early, with the same applying to Venus Serena from three on the second line.
So with all the favourites having awkward draws the race could provide plenty of value about some smart fillies.
They won't be the only young stars on show, with Australasia's best 3-year-old trotters converging on Alexandra Park, albeit not all in the same race.
NZ Derby winner Habibti will miss tonight's major 3-year-old trot because she is ineligible after winning an earlier Sires' Stakes Prelude so she is forced to take on older trotters in the first race, which should be treated with caution.
But the rest of the stars of this vintage crop meet in the first of three huge clashes in the next fortnight.
Habibti's absence opens the door for Australia's champion young trotter Blitzthemcalder to start favourite, even though he meets some exciting opponents in Royal Aspirations, Prime Power and Sheemon.
An Alexandra Park debut can be an expensive learning curve for young trotters but Blitzthemcalder's trainer Ross Payne is confident the big trotter will handle the right-handed track. "He has travelled up here, and settled in, perfectly so I am not worried about the track," said Payne.
The older trotters will provide another of the night's highlights, with four former Harness Jewels winners meeting in the $25,000 Greenlane Cup.
The start of the race will be crucial, with the backmarkers Sovereignty and Springbank Sam winning chances if they can get away quickly but they will be in trouble should they settle at the rear of the big field.
Cyclone U Bolt, Realmein, Boizel and Commander Galleon can all win but the buzz horse of the field is Master Lavros, who was the trotting find in the first half of the season.
His trainer Mark Jones is using tonight's race to tell him whether Master Lavros is a genuine chance in the Rowe Cup in two weeks and as daunting a task as it is fresh up since December, the big horse has some serious x-factor.
Punting at the Park
Best bet: Cyclone Prince (R3, No 6): Massive win in the Cardigan Bay last start and this no harder.
Each-way: Mista Mara (R8, No 7): Better left-handed but worked well Monday morning and back in grade from NZ Derby last start.
Forgive: Ida Tiger (R9, No 4): Beaten as plunge horse last Friday but sit-sprinter who could get tempo to suit here.
Flashy: Aussie trotter Blitzthemcalder (R5, No 2) meets a sharp local crop tonight but he is the real deal.