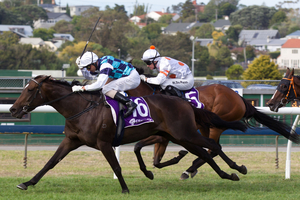 You can see why trainers just love top-class horses.
It's not just the stakemoney.
Co-trainer Dean Logan arrived at Ellerslie on Saturday as if he was about to have a swim at the beach.
Habibi might have been the $2.80 favourite for the country's greatest classic, the TV3 NZ Derby, but there wasn't a nervous muscle in sight.
"I've been more nervous before a maiden race on our home track at Ruakaka," Logan declared.
"We know this filly is good enough to win, her work has been outstanding and not one thing has gone even slightly wrong."
Another way of saying that would be: "Barring really bad luck we expect this filly to just win".
And that's exactly how the race played.
Castlzeberg and Fix, the two expected hurdles between Habibi and victory, were in front on the home straight, but both jockeys, Opie Bosson and Mark Du Plessis, caught a glimpse of Habibi and Vinnie Colgan looming in the middle of the track.
In four strides it was game over.
Fix fought back as she always can and does and the winning margin was not as clearcut as it seemed it might be at the 200m, but the win was never in doubt.
Trainers almost never show complete confidence in horses in group ones and the air around Dean Logan pre-race is extremely rare on a personal level.
That's what an outstanding racehorse can do to you.
Someone said on Saturday it was a shame Habibi suffered her only defeat at her previous start in the Avondale Guineas: "She could now be our Black Caviar."
Yes, but with being unbeaten comes masses of pressure.
Ask Peter Moody.
Neither the Melbourne horseman, nor any other trainer, would turn down the glory, and finances, Black Caviar has brought, but how do you think Moody feels these days as the champion mare heads to the barriers?
He is a heavy smoker on a good day - on Black Caviar racedays he practically swallows the cigarette packet whole.
Had Habibi won the Avondale Guineas and gone into Saturday's feature unbeaten, for certain there would have been sweat on the brow of Dean and Donna Logan pre-race.
Habibi is part-owned by Heather Crofskey who, a quarter of a century back, was widely known as Heather Eggleton, the co-host with Selwyn Toogood on the TV game show It's In The Bag.
She races the champion filly in partnership with a son, Gavin, her husband Peter and friend Pam McIntyre.
If you really wanted to know what owning a high-class racehorse means to someone you needed to be in the Ellerslie birdcage post-race.
Heather Crofskey could not contain herself.
"This is the greatest day of my life - oh, I hope my children forgive me that."
The winning stake of $450,000 can buy a lot of forgiveness.
With ease, Colgan breezed past Bob Vance's record of four winning rides in the Derby at Ellerslie.
Five winning Derby rides in a single race is a record that will stand for some time.
Regardless of the certainty of the victory, Colgan did not pick up his $22,500 winning rider's cheque without having to do some work.
"Boy, she hung the whole way as she usually does," is how Colgan described Habibi's trip.
"But once she gets to the home turn she does everything right. She's a character."
Colgan is about to take up a new position as stable rider for prominent Adelaide trainer Tony McEvoy.
"I don't know an actual date for when I leave yet, but it will probably be around the last week of March."
Colgan believes no distance would be beyond Habibi, who Dean and Donna Logan always describe as an "absolute freak".
Not even the 2400m of Saturday's Derby - a hugely tough race for young horses - could tap the bottom of Habibi's stamina.
So, what about the 3200m of the Melbourne Cup? Why not, we have few horses good enough these days, but Habibi looks one of them.
Now that really would be the best day of Heather Crofskey's life.
Immediately after the race, third-placed Castlzeberg was taken over by representatives of Melbourne's OTI, which bought the 3-year-old last week.
OTI principal Terry Henderson made a lightning trip to New Zealand for the Derby.
"We'll probably give him only one race in Sydney before spelling him," said Henderson.
The surprise of the race was the fourth placing of rank outsider Saint Kitt, paying $140.
Rider Rogan Norvall said he was confident a fair way out of getting some of the money. "He was travelling well and I was following Habibi at the 700m, so I knew she would take me right into the race."