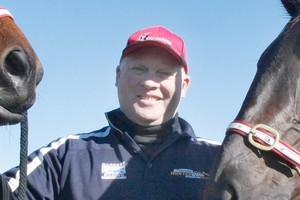 Champion New Zealand trainer Tim Butt is set to appeal a six-month disqualification handed down to him in Sydney yesterday.
His brother Anthony has already taken over the glamour Canterbury stable and will start his training career at Addington tomorrow night.
Tim Butt was found guilty of presenting Raglan to race in last November's Miracle Mile at Menangle with arsenic in its system.
Ironically, he had only arrived in Sydney two days before the race and Anthony had been doing most of the training of Raglan. But as the trainer Tim is responsible for how it is presented on race night.
With New South Wales stewards stung into action by the state's recent drugs and betting scandals they are hitting any trainers with positive swabs hard and Butt got his hammering yesterday.
Country training icon Barry Lew, of Karloo Mick fame, also copped a six-month ban last month while Australia's glamour trainer Luke McCarthy faces the stewards over a positive tomorrow.
It would be a brave person who bet McCarthy will still be training at the conclusion of his hearing.
Tim Butt could not be contacted last night but Anthony suggested an appeal against the verdict and the sentence is likely. Anthony applied for and was instantly issued his training licence to ensure some continuity for the Premier Stables brand.
"I really feel for Tim because we have no idea how Raglan could return a positive for anything," Anthony told the Herald. "We had two horses in the Mile and the other one returned nothing, even though they ate and drank the same stuff.
"But I had to move the other one [Lisagain] because he wasn't settling in and that suggests any trace of a substance is from environmental factors.
"But that gets very complex and I don't want to say too much about it because of the appeal process."
Anthony did say the case highlights of the problems facing trainers at the top of the industry, who spread their staff resources so thinly at major race times. "There was a weekend a few months ago when we had horses starting in Sydney, Melbourne, Perth, Auckland and Christchurch all within 24 hours.
"That makes it really hard to control every little thing they eat and drink as much as you would like.
"But when and if mistakes happen you would like to see some common sense in how the authorities react."
Rather than dwell on the outcome of the appeal, Anthony says he will try and fill his brother's enormous training shoes.
They have effectively been a training-driving partnership for the past 15 years, with Anthony doing much of the training of their Australian travelling team, particularly in the past five years.
The pair have been wildly successful, having trained two of only three New Zealand trotters to win over $1 million - Lyell Creek and Take A Moment.
They also transformed one-time battler Flashing Red into a dual New Zealand Cup hero and trained four of the past nine Hunter Cup winners.
They include Mr Feelgood, who gave the pair their greatest moments in harness racing when he won the 2009 Interdominion Pacing Final.
The stable Anthony will inherit for possibly the next six months includes Hunter Cup winners Stunin Cullen and Choise Achiever, Raglan and this season's three-time group one winning trotter Vulcan.
"But I don't want to be the long-term trainer," says Anthony.
"That is Tim's role and I will be keeping things ticking over until he gets back."
Butt will have to apply to New Zealand authorities to even be allowed to live in his own houses since it is on the training property, although in recent years that has normally been granted to disqualified trainers.
DISQUALIFIED
* Champion harness trainer Tim Butt has been disqualified for six months.
* He was found guilty of presenting Raglan for the Miracle Mile with arsenic in its system.
* He is likely to appeal both the verdict and his sentence.
* Butt's brother, leading driver Anthony, will take over training the stable.