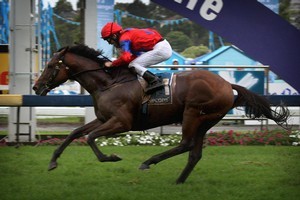 Jimmy Choux was last night named NZ Thoroughbred Racing's Horse of the Year.
Last season's champion 3-year-old received racing's highest honour at a black tie dinner in Hastings on the eve of today's group one $200,000 Makfi Challenge Stakes in which Jimmy Choux will compete.
There was no surprise at the announcement - if the TAB had been betting on the award Jimmy Choux would have been no better than $1.50.
Trainer John Bary, a relative newcomer to the ranks, summed it up: "He deserved that."
In a remarkable run of form Jimmy Choux almost swept the board last season after being beaten a nose in his first start back in the Wanganui Guineas last spring.
After that he won the $85,000 Hawkes Bay Guineas, $1 million 2000 Guineas, $100,000 Great Northern Guineas, $70,000 Wellington Stakes, $70,000 Waikato Guineas, $2.2 million Telecom Derby and A$500,000 Rosehill Guineas.
The only blemish was when he had a heart fibrillation and was virtually pulled up in the $200,000 Levin Classic in November.
Jimmy Choux's last start before being spelled was the AJC Derby, which was clearly one race too far.
"We're all so proud of this horse," said an emotional Bary, who made a name for himself as an international polo player before taking up training thoroughbreds.
"There is nothing like a top racehorse to take you to the heights."
There was little guesswork in another couple of the awards.
Anabandana would have been $1.20 to take the Champion 2-Year-Old title. New Zealand runs two group one juvenile events each year, the Diamond Stakes at Ellerslie and the Manawatu Sires Produce and Anabandana won both for owner Chris Grace and trainer Don Sellwood.
Anabandana made her first public appearance in a fresh campaign at Tuesday's Cambridge barrier trials looking burly in condition.
The filly finished unplaced, but Don Sellwood and rider Opie Bosson were delighted with the effort.
"She's just coming up steadily," said Sellwood. "That run will do her a lot of good."
Anabandana will resume in the Gold Trail Stakes on the middle day of the Hastings spring treble in a couple of weeks.
With dual group one victories in the $1 million Telegraph and $200,000 Waikato Draught Sprint, Mufhasa was the warm favourite to take Champion Sprinter (up to 1500m).
"Isn't it remarkable that after a campaign when he failed to find his real top form he was able to come back and win at group one level," said trainer Stephen McKee.
Mufhasa will have the first start of his new campaign in the Makfi Challenge Stakes at Hastings this afternoon. "He's forward enough to be competitive," said McKee.
With dual group one victories in New Zealand as well as a win in the A$1 million Emirates Stakes at Flemington, Wall Street took the Champion Middle Distance Horse.
He is the TAB's favourite to win today's Makfi Stakes. "He's very ready," says trainer Jeff Lynds.
Showcause promoted himself towards the Champion Stayer with victories in the New Zealand Cup, City Of Auckland Cup and Avondale Cup before finishing second to Titch in the $1 million Auckland Cup.
"We're going to try and get him into the Melbourne Cup field," said delighted trainer Frank Ritchie.
Showcause resumes his career over 1600m at Hastings today, but the race is expected to be too short for him.
The shortest priced favourite on the night was James McDonald for Jockey of the Year.
McDonald broke all records on his way to a new benchmark of seasonal winners and in the process thrust his name into the minds of Australian trainers, many of whom have already offered lucrative contracts.
One of the superlative elements of McDonald is the manner in which he has conducted himself under real pressure.
"I'm not going to say last season was easy because it wasn't, but we stuck to the task and got there in the end. It actually feels really good now."
McDonald's mount in the Makfi Challenge is Graeme and Debbie Rogerson-trained Scarlett Lady, who capped a brilliant run of mid-year form with a sensational win in the Queensland Oaks.
The New Zealand Bloodstock Filly of the Year was King's Rose, who accumulated the most points in the races designated for the series.
King's Rose was recently transferred to the champion Melbourne stable of Peter Moodie and will have her first Australian start in today's A$200,000 Memsie Stakes, for which she has been heavily backed by the stable.
Perhaps the most interesting award each year is the Outstanding Contribution to Racing, presented by NZ Thoroughbred Racing for exceptional service to the industry.
The 2011 winner is Dr Brian Goulden for his work in enhancing health, welfare and research for thoroughbreds, as well as other equines, in New Zealand.
List of winners
* Grosvenor Stallion Award - Thorn Park (NZ stakes earnings)
* Dewar Stallion Award - High Chaparral (NZ and Australian combined stakes earnings)
* Centaine Stallion Award - Pins (worldwide stakes earnings)
* Breeder of the Year - Chouxmaani Investments Ltd (Richard and Elizabeth Wood) - Jimmy Choux
* Broodmare of the Year - Triassic (dam of So You Think)
* Media Award - Mike Dillon (NZ Herald)
* Jockey of the Year - James McDonald
* Jumps Jockey of the Year - Richard Cully
* Dunstan Trainer of the Year - Michael Pitman
* Owner of the Year - Chouxmaani Investments Ltd
* NZ Bloodstock Filly of the Year - King's Rose
* Champion Jumper - Hypnotize
* Champion 2-Year-Old - Anabandana
* Champion 3-Year-Old - Jimmy Choux
* Champion Sprinter (up to 1500m) - Mufhasa
* Champion Middle Distance Horse (1501m-2100m) - Wall Street
* Champion stayer (2101m and longer) - Showcause
* Award for Outstanding Contribution to Racing - Dr Brian Goulden
* Horse of the Year - Jimmy Choux