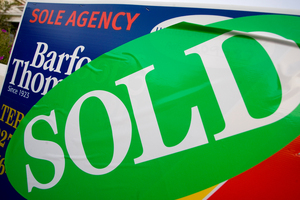 Home loan affordability across the country increased in June - albeit only slightly - a new report has found.
A 0.6 per cent fall in the national median house price last month more than offset a rise in interest rates, the Roost Home Loan Affordability Report has found.
The same report found an improvement in 16 of the 24 regions, including on the North Shore and in South Auckland, and that a slight rise in wages was just enough to compensate for increases in floating mortgage rates over the month.
National affordability improved to 62.6 per cent in June from 63.1 per cent in May after the national median house price fell to $427,250 in June from $432,000 in May. The median house price in Auckland sat at $600,000 last month.
The average floating mortgage rate rose from 6.23 per cent to 6.42 per cent, although fixed rates rose by less and are now significantly below floating rates, the report showed.
Roost spokeswoman Colleen Dennehy said banks had been more aggressive in recent months, offering cut-rate longer-term fixed mortgage deals and passing on the benefits of low international and local funding costs.
As a result, fixed mortgage rates have sat just above 6 per cent over the past two months and now were well below floating rates of over 6.5 per cent.
Floating rates were expected to continue to rise over 6.7 per cent, following the Reserve Bank's rate hike on Thursday, Ms Dennehy said.
"The rise in floating mortgage rates in recent months has shaken up the market.
"Banks are offering many and varied fixed rate deals and incentives, which a broker can help a borrower navigate."
The report showed affordability for home buyers improved in 16 cities and regions, including North Shore, Manukau, Whangarei, Hamilton, Dunedin and Invercargill.
Affordability deteriorated in central Auckland, Waitakere, Wanganui and Queenstown as house prices rose.
Despite the improvement, Auckland's North Shore remained the least affordable area in the country for first home buyers -- taking 109.5 per cent of a single median after tax income to afford a first quartile priced house -- valued at $592,500.
Any level over 40 per cent was considered unaffordable, Ms Dennehy said. Nationally, the lower quartile house price rose from $287,000 to $287,750 last month.
The most affordable city for first home buyers -- defined by the report as a 25 - to 29-year-old buying a first quartile home - was in Invercargill, where it took 20.4 per cent of a young person's disposable income to afford a first quartile home - valued at $126,125.
Home loan affordability is measured by calculating the proportion of after tax pay needed to service an 80 per cent home loan.
- APNZ