Design of modern north-facing home was inspired by tour of trend-setting Californian architecture.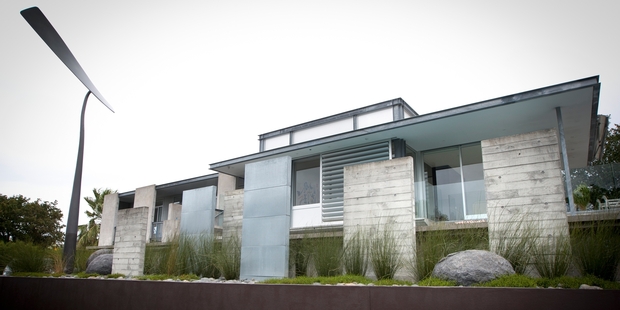 Stephen and Karen Pearson may have the only home in New Zealand that could double as an art gallery.
The five-bedroom home for sale on Masons Ave in the country's most expensive suburb, Herne Bay, was built for Gary Langsford, co-owner of the Gow Langsford Gallery, to display his expansive private collection.
The 438sq m concrete, steel and aluminium joinery house's north-facing position combined with floor-to-ceiling glass, captures every drop of sun.
The white walls soar up to 3.6m in height, which the Pearsons utilise for their own pieces of work.
The 1.8m hallway is wide enough to accommodate the many visitors who admire the work.
The kitchen, dining and living area is open plan and soundproof because of special tiles on the roof and the Canadian maple floors have been bleached with a whitewash to create even more light.
"It's kind of like an art gallery with rooms," Mr Pearson said.
The Pearsons, who own an advertising consultancy, bought the property from Mr Langsford for $2.1 million in 2001. It now has a valuation of $3.85 million.
Over the years, they have built up a collection of more than 45 pieces, with some worth more than $100,000.
Mr Pearson told the Herald his favourite piece was a striking print of a rabbit eye by Michael Parekowhai which is placed at the end of the hall.
The works are mostly by New Zealand artists, including Judy Millar, Richard Killeen, Milan Mrkusich, Yvonne Todd, Michael Harrison, Andrew Mcleod and Peter Robinson.
Other pieces include a knitted replica of the Mona Lisa - bought from a student show - two corrugated iron elephants by Jeff Thomson in the garden, and a Phil Price wind-activated kinetic sculpture which greets visitors as they drive in.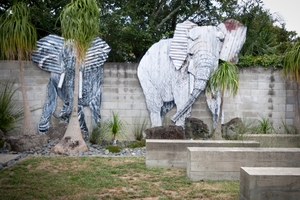 Mr Pearson said he started collecting art when he was 23 after visiting the home of another collector.
"It blew me away and I dreamed of how one day some of this stuff could be mine."
The couple, who have two teenage children, are selling to build a home from scratch.
They are also building on land at Jacks Point in Queenstown.
"We've always wanted to build from scratch and have that thrill of being immersed in the building process," Mr Pearson said.
The couple previously owned a 1926 weatherboard house, on nearby Sentinel Rd, which they renovated.
Real estate agent Graham Wall, who is handling the sale of the Masons Ave property, said it was designed by New York architect David Howell, who spent a week touring California's case study homes with Mr Langsford for inspiration.
The houses were experiments in American residential architecture sponsored by Arts & Architecture magazine in the 1940s, 1950s and 1960s.
"In a suburb full of villas it would certainly stand out, if you could see it," Mr Wall said.
"Tucked down a long driveway, the home is hidden from the street."