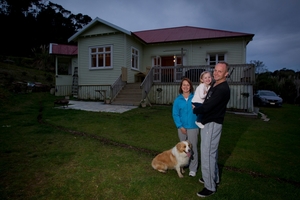 A longer commute to the office was a fair trade-off for the Howard family when they swapped their Birkenhead townhouse for a 2ha Kaukapakapa lifestyle block in April.
Accounts manager Luke, teacher Angela and their 4-year-old daughter Nellie moved 50km from central Auckland after they saw how much more their money could buy.
"We started looking at what we could buy with our money, about $600,000, in Birkenhead and it was all sort of three-bedroom, one bathrooms on small sections," said Mr Howard. "Then we thought maybe we could go back a bit further out."
The idea especially appealed to Mrs Howard, who grew up in Hawkes Bay.
"We found we could just buy so much and now we have five acres, our house has four bedrooms, it is a massive old villa and all the rooms are huge. We've got three bathrooms all with showers and toilets and we have two decks."
The extra section meant more work and Mr Howard had to leave earlier for his CBD office each day, but it was worth it, he said.
"It's about a 35- or 40-minute commute but most people take that long by the time they walk to the train station or catch the bus."