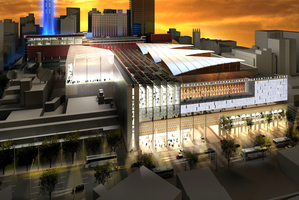 Developers are eying opportunities to build new Auckland hotels, sparked into action by SkyCity's convention centre plans and the waterfront rejuvenation, says Dean Humphries, Colliers International's national hotel director.
Humphries said a number of existing office buildings were already being converted but a tight supply and rising demand meant new-builds were on the cards.
"This is largely being driven by strategic decisions including the Auckland waterfront regeneration, the new convention centre and a number of owner-operators who are unable to purchase an existing hotel and so [are] being forced to build to take a position in this tightly held market," he said.
"Anyone who understands the hotel industry and knows that the convention centre will be built, knows there will be a demand for convention centre hotels," he said, referring to SkyCity's existing 3.5 to 5-star offerings as not being enough.
Singapore and Melbourne convention centre hotels were 5-star, he said, predicting four to 5-star new builds in Auckland.
Consultants Horwath HTL said they were aware that Auckland would get four additional hotels - a new 5-star Wynyard Quarter project and conversions near Albert St, on Queen St and at the Reserve Bank building on Customs St East.
Humphries said Hotel Council data for the May year indicated occupancies were up 4 per cent across all major regions compared to last year. Revenue per available room was up almost 10 per cent.
Auckland was a standout performer with occupancy for the year to May of 81.5 per cent and revenue per room up $10 or 10 per cent over the same period last year, Humphries said.
Demand and growth was coming from most sectors including meetings, incentives, conferencing and events, free independent travellers, corporate and tours.
"Christchurch retains the top spot in the country with occupancies at 84.4 per cent and average room rates across all 3- to 5-star hotels reaching the highest achieved in any region at $160 per room per night," he said.
Queenstown and Rotorua room rates and occupancies were improving after a period of stagnation.
"For the first time in many years, hotel performance in all major New Zealand cities is growing faster than our Australian counterparts. This may be a reflection of a slowing down in the Australian economy and a recovery in ours," Humphries said.
Significantly more average room rate growth was needed before new hotels became viable, he said.
"Our average room rates remain one of the lowest in the Asia Pacific region and unless we can lift these, new hotel development remain constrained," he said.
"For example most Australian cites have average room rates up towards $200 compared to New Zealand with an average room rate of under $140.
"We are, however, seeing some talk of new development in the better performing cities - Auckland, Wellington and Christchurch."