Westpac expert worried some borrowers effectively using their properties as ATM.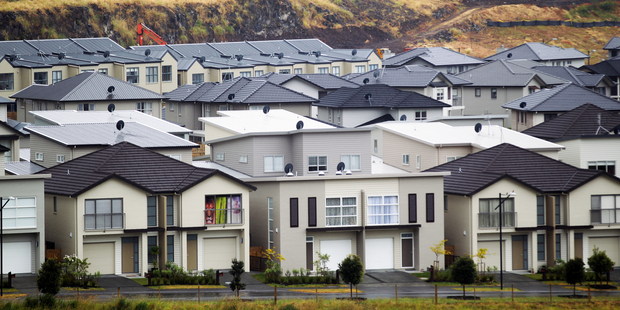 A bank economist has warned of consumer spending sprees and widespread economic fallout if house price rises continue, just as QV showed the sector continuing to rocket ahead.
Felix Delbruck, Westpac Institutional Bank senior economist, said borrowers could remortgage, "effectively using the house as an ATM".
QV yesterday released data showing house prices nationally rose 1.7 per cent in the three months to May and 7.1 per cent in a year. They're now 5 per cent above the 2007 peak.
Mr Delbruck said a rising housing market could boost domestic spending, putting further inflation pressures on the economy and sparking more interest rate hikes than the Reserve Bank was indicating.
The International Monetary Fund has already warned that New Zealand's housing market is over-valued by as much as 25 per cent and economists are awaiting the Reserve Bank's Thursday announcement, looking for further details of the new loan-to-value ratio regime to quell the riskiest end of the lending market.
QV said Auckland and Canterbury were showing the strongest price growth, reflecting low supply levels.
Auckland prices are up 3.5 per cent in the three months to May and 12.7 in a year and are 17 per cent above the 2007 peak, while Christchurch prices are up 10 per cent in a year and are 10.8 per cent above the 2007 peak.
Areas outside Auckland and Canterbury showed modest price rises, reflecting the gradual lift in demand over the past year but with a more balanced supply.
Mr Delbruck worried about the effects of a rocketing market, saying it was true that, about two years ago, people had been paying down debt, but that trend now appeared to have reversed.
Mortgage growth had picked up since early last year "and indeed now seems to be growing slightly faster than household incomes".
"Every house sale will add to the economy's total mortgage debt if the buyer takes on more debt than the seller pays down.
"Provided that this increase in debt isn't reinvested in housing, it's potentially available for spending on consumer goods and services," Mr Delbruck said, predicting house prices to rise nationally 18 per cent over this year and next.
QV operations manager Kerry Stewart said Auckland prices were still very high and a "somewhat desperate" feeling was emerging among buyers searching for good houses at reasonable prices.
The speed with which people had to make an offer had seen some forgo the usual due diligence.