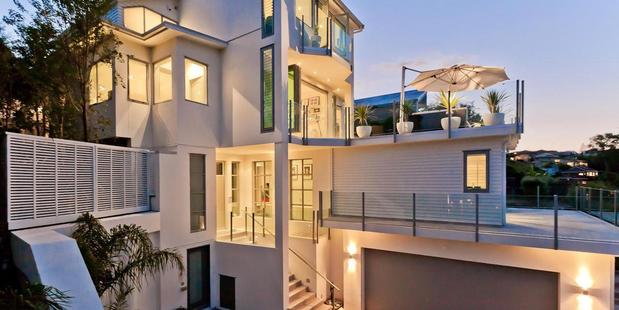 The lavish home of cricket legend Martin Crowe and former Miss Universe Lorraine Downes is on the market.
The couple bought the four-bedroom, three-bathroom home new six years ago - the first home they shared before their marriage in 2009.
The Kohimarama home boasts a putting green, a heated pool, a media room and extensive north-facing decks that capture sun into the evening.
"There have been plenty of great family barbecues on the deck and by the pool, it gets the sun all day," Crowe said this week.
"We have had plenty of great memories. It has been a fantastic home and we have loved it."
Crowe, a former New Zealand captain who played 77 tests in a 13-year career, was diagnosed with the blood cancer lymphoma last October.
He is half-way through chemotherapy and was positive about the future.
"As anyone who has been through this will know, you have your good days and your bad days.
We are staying positive and looking forward to a good outcome."
Crowe thought the four-level house would suit a family but was low maintenance so would also suit a corporate couple.
The bedrooms were on the upper and lower levels with the living area, and access to the pool and deck, in the middle.
"It even has a lift that goes from the carpark to the living area - it's great for bad knees," Crowe said.
The house has a valuation of $1.8 million, overlooks well-known Madills Farm and is within walking distance of the beach. Crowe's cricket caps and jerseys are proudly displayed in the large wine cellar.
Crowe and Downes share the home with Downes' teenage daughter Jasmine, by a previous marriage, and Crowe's daughter Emma, 9, also from a previous relationship.