Provincial homes may not provide the retirement funds expected.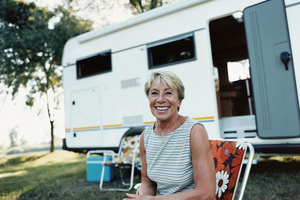 Homeowners in their 40s and 50s living in smaller centres may struggle to sell their homes for a good price when the time comes to downsize, says a Waikato University demographer.
Professor Natalie Jackson told a Retirement Policy Research Centre conference in Auckland that the ratio of "decumulators" wanting to sell their assets to "accumulators" was increasing around the country as the population aged and young people moved to bigger cities for work.
She said about one-third of older people sold their homes on retirement, meaning there would be a large increase in the number of house-sellers as baby-boomers reached retirement age.
But, in regional areas, the number of young people to buy those properties was declining.
Elaine Crawford and her husband have been trying to sell their Northland home for some time but have had no bites.
The rates bill kept going up and Crawford said they could no longer afford to live in the property. They are touring the country in their caravan and renting out their Tutukaka home.
"I think it's a problem everywhere, except Auckland."
Jackson said the national ratio of those aged 65 and over to those aged between 20 and 65 was 2:10 and would increase to 3.2:10 by 2031. Areas outside the major centres would be hit hardest.
Matamata-Piako was already at 3.5:10 and was projected to rise to 6.4:10 by 2031. The West Coast, currently 3.4:10, was likely to age even more quickly, reaching a ratio of 7.6:10 by 2031.
"As decumulators rise relative to accumulators, one would expect less competition for what is being sold, and that is not limited to houses," Jackson said.
"Think about businesses people have spent their lives investing in. Regional areas that are experiencing population decline will not see the sort of demand we are seeing in Auckland and Hamilton."
She said those affected the most would be the youngest baby-boomers.
Grey Power president Roy Reid said it was a concern as many older people were asset rich but cash poor. "The value of their house is realistically their supply of money if they should need to go into full-time care or have an operation," Reid said.
But Motu Economic and Public Policy researcher Andrew Coleman said increasing longevity meant many older people were staying in their houses longer. They were also starting to favour bigger houses. Between 1996 and 2006, the number of older people in one- or two-bedroom flats dropped 9 per cent.
"They don't trade down. Those used to be the houses we would buy when they die."
NZIER economist Shamubeel Eaqub said the correlation between demographics and asset prices was not well understood. He said even in countries where there was not a noticeable baby-boomer population, there had been rapid price gains over the past decade.
"I don't want to play down the impact of ageing but it's a slow and gradual thing. It feels like, yes, there's a correlation there. But you have to ask the questions. There must be other factors at play."
Judith Davey, of Victoria University, said the prospect of declining house prices could make equity-release schemes more attractive, so people could get their money out before they had to sell.
Also known as reverse mortgages, these let people borrow on the equity in their homes. Many had negative-equity guarantees, so people would not be left with debt.