Governments may need to bypass global networks.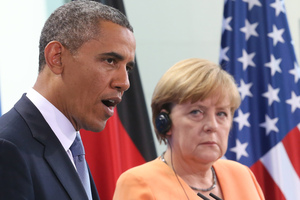 President Obama is in some trouble with friends and allies in Europe. The United States National Security Agency's capability to monitor the phone calls of foreign leaders has caused consternation in European capitals, particularly in Germany where the scars of a police state in its eastern region are still healing.
Outrage that the US agency would tap the phone of Chancellor Angela Merkel has not been assuaged by a White House assurance that the NSA is not currently bugging her and would not do so in future. It was an implicit admission that it has done so in the past. One German newspaper at the weekend reported that the Chancellor's mobile number had been listed by the agency since 2002, and was still listed not long before Mr Obama visited Berlin in June.
Though the President is said to have told Mrs Merkel last week he did not know of the spying, the newspaper Bild am Sonntag, citing an unnamed NSA official, says Mr Obama has known about the phone tap on Mrs Merkel for at least three years and had ordered it to be escalated.
The headlines surrounded a summit meeting of European Union leaders at the weekend, where all except Britain's David Cameron echoed Mrs Merkel's call for a collective response. Britain, whose own external intelligence agency has been accused of spying on allies, believes it is a matter for individual countries' dealings with the US.
New Zealand's Government sounds similarly relaxed. John Key does not believe he has been spied on by the US. He says he has never been advised by either the GCSB or SIS that he has been. This country is of course a partner in the "Five Eyes" intelligence-sharing alliance with the US, Britain, Canada and Australia. None seem to share the horror being heard in Europe.
Spying - even on friends - is as old as statecraft. What has changed is the method. New communications technology has enabled spy agencies not only to intercept messages more easily but to gain vast catalogues of computer records of calls made, which can be more telling. The US has a singular advantage in the new technology because all the big global networks such as Google, Facebook, Yahoo and Amazon are under its jurisdiction.
Since the US' use of its position was revealed by a former NSA employee, Edward Snowden, a coalition of concerned countries led by Germany and Brazil has drafted a resolution for the United Nations General Assembly to assert a right to privacy. That is probably the best that can be done diplomatically but it is hard to believe the US would be constrained by any such protocol whenever it feels itself threatened.
Governments that want their communications to be secure from US prying may need to establish their own secure networks, bypassing those that are required to make their systems and codes accessible to the US Government. If the Europeans did that, and their networks were made available to everyone, they might find a global demand for more secure internet services.
The very possibility might be enough to make the US think again about the access it demands to networks based in its jurisdiction. If the European Union and its leading members are as worried as they sound about Mrs Merkel's cellphone privacy, they will do more than complain to Washington. They will make the sort of investment in digital networks that challenges American dominance, much as they did in airliners a generation ago. If they mean only to stamp their feet and demand privacy as friends and allies, the US will listen politely but its national security concerns will prevail.