As Baby Loss Awareness Week nears its end, Anna Leask speaks to a young mum about her tragic loss and the friendships she forged with strangers who stepped up to support her through her ordeal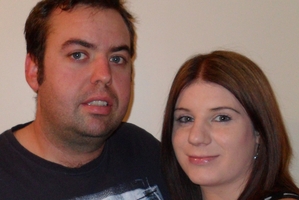 The nursery was ready, the name was chosen and a young Pukekohe couple were excited to meet their first baby.
But just a week before their due date, something went terribly wrong.
On September 1, heavily pregnant Briar Pope, 20, realised she could not remember when she last felt her baby move.
Five days earlier, she'd had a routine appointment with her midwife, and 39 weeks into her pregnancy she was a picture of health. So, when it first occurred to her that her unborn daughter had not moved for a while, she did not panic.
Instead, she asked the advice of other mums and pregnant women she had befriended through a Facebook group called Mummy Matters.
"I haven't felt my baby move; is this normal?" she posted on the group's page.
"I asked for some advice and the ladies told me to call my midwife. We went to the hospital and found out that there was no heartbeat ...
I lost my daughter."
It is not clear why the baby, named Olivia, had died.
Ms Pope and her partner, Bryce Irwin, hope the results of a post-mortem examination will shed some light on what happened to their baby, who had been perfectly healthy just days earlier.
Unbeknown to Ms Pope, while she was mourning the loss of the daughter she had been so excited to meet, about 3000 concerned Mummy Matters members took action, raising funds and arranging support services for the couple.
"I hadn't been able to reply [on Mummy Matters] with everything that was happening, and all these ladies I had never met before were worried.
"They contacted my friend and asked her to find out what was happening and as soon as they knew they all got involved and helped out.
"Amazing things started happening. These strangers I had never met started fundraising for my partner and I to help us get through ... They ended up raising about $1600 for us," Ms Pope said.
"I know it doesn't seem like a big amount but the fact that complete strangers had done this for us was so amazing. A lot of these mums are single mums or families that also struggle but they managed to help out a little bit."
The money meant Mr Irwin could take more time off work to grieve and support Ms Pope and they did not have to worry about rent and bills.
"Every day I was getting hundreds of ladies sending me loving, kind messages on Facebook - people I had never met. The support was overwhelming."
Of the countless kind gestures, three in particular touched the couple deeply.
One woman arranged for imprints to be taken of Olivia's hands and feet in plaster as a keepsake, another offered to take photos of the couple with their baby, and a third designed, printed and framed a birth notice.
"I think this is such a touching thing to have happen and it just goes to show how powerful the world of Facebook can be."
Ms Pope decided to share her story to thank the hundreds of complete strangers who offered a helping hand, and to raise awareness about stillbirths.
She spoke to the Weekend Herald during Baby Loss Awareness Week which runs from October 9, ending on International Pregnancy and Infant Loss Day on October 15.
After learning their daughter had died, the young couple had to endure a devastating birth process during which Ms Pope was induced and gave birth naturally
"We just had no idea this could happen at 39 weeks. It's not something you hear about. You think that after the first 12 weeks you're pretty safe - you don't think about losing the child the week before you're due," said Ms Pope.
"It broke our hearts in half ... it will never heal."
Coping with tragedy
• Baby Loss Awareness Week aims to provide an opportunity for parents and families to come together and remember the lives of their babies who have died.
• If you are pregnant and concerned about your baby or health, contact your midwife or doctor immediately.
• For more information on stillbirths or to find a support group visit www.sands.org.nz
Each year in NZ
• More than 700 babies die between 20 weeks' gestation and 12 months old
• More than 10,000 die before 20 weeks' gestation.