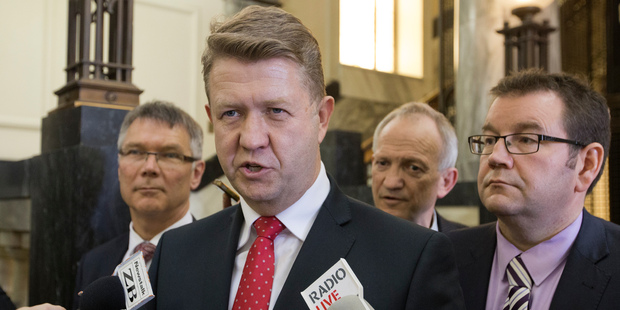 The past week or so has been brought to you by the letters D and E, where D is deals and donations with 55 dolphins thrown in for good measure and how those Ds might affect the big E - the election looming in three months' time.
Having dismissed questions about Donghua Liu donations to Labour as happening in the years BC - Before Cunliffe - it didn't take long for Labour leader David Cunliffe to move on this week by proceeding through the alphabet to F and G - the political sport of flip flopping and gaffes.
On Tuesday morning, poor old Cunliffe had a rush of blood to the head and announced Labour was vehemently opposed to even the suggestion of allowing mining exploration in the marine sanctuary for the Maui's dolphins. At the time, he was standing alongside Labour candidate Tamati Coffey, who had organised a protest against exploration in the sanctuary the previous weekend.
It seemed like such an easy hit against National. Its decision in the 2014 permit round to allow exploration within the sanctuary had not looked good. It has learned the hard way that New Zealanders of all political colours like the environment and animals. Dolphins carry a high level of public attachment and nobody would want the fallout from being the Government under which the Maui's dolphins died out completely.
But Cunliffe's statement left the economic development enthusiasts within Labour wondering whether they were now as endangered as the Maui's dolphins themselves, while the Labour voters who fled to the Green Party considered a return trip.
Prime Minister John Key pointed out that of the 23 wells in the area, 18 were put there under a Labour government. Cue a second statement from Cunliffe to 3News to say that when he said Labour was opposed to mining exploration in the dolphins' living room, what he had meant was that it was not opposed, provided it was done responsibly.
All of this pot calling the kettle black stuff does augur well for a clean campaign. This frenzy of own goals has effectively neutralised both major parties across a multitude of attack lines. Both sides now have a handy riposte for any claims about issues from trustworthiness and donations to personal wealth.
We can rest at ease that soon they may begin talking about the economy - and right on cue, Labour's David Parker attempted to push the reset button yesterday by outlining Labour's tax and fiscal policy.
Meanwhile, on the deals front the voters of East Coast Bays, Epsom and Ohariu are still waiting for Prime Minister John Key to give them their mission.
It's safe to say National are polling in every leafy grove and cul-de-sac in East Coast Bays to assess whether the voters there would play the game before National makes its decision.
Key takes a "better the devil you know" approach to support partners. Conservative leader Colin Craig's recent description of the National Government as "toxic" and latest photo shoot will not have helped. That photo shoot featured Craig reclining awkwardly amidst the long grass in a manner reminiscent of a middle-aged Lady Chatterley's lover. Little wonder Act and United Future remain more palatable to Key. Nonetheless, it is capable of delivering more MPs than either Act or United Future if it does win an electorate. In fact, that may be the reason for Key's hesitancy. The more MPs there are, the more troublesome things can get.
The smaller parties have been keeping their heads down throughout the donations raging, wary of getting hit by the splatter. Yesterday the Green Party called for people to be talking about child poverty rather than attacking each other over donations. Other parties were far too busy fretting about their own poverty levels to bother with the children. Green co-leader Metiria Turei said the donations controversy was just not relevant to New Zealand families.
That may be right, but it is also a bit rich, given it was the Greens who kicked off a prolonged attack over National's Cabinet Club donations scheme to begin with.
Call me unfashionable, but if the Liu palaver has shown anything it is that those Cabinet clubs are probably not as scandalous as the Greens claim.
National paints it as a political equivalent of a knitting circle - a social occasion at which like-minded folk listen to some minister bang on before having a cup of tea. The Greens say it is "cash for access". But there is an element of safety in numbers. A minister speaking to a group of small-time donors has less stench and scope for corruption than one on one meetings with big donors in secret to which there are no other witnesses. As one person on the National side of the ledger put it, if people are that keen to pay $1000 a year for the pleasure of listening to Steven Joyce bang on about his 120-point plan for economic transformation, more fool them.
It's enough to leave the majority of voters with a bad case of the letter Z: Zzzzzzzzzzzz.