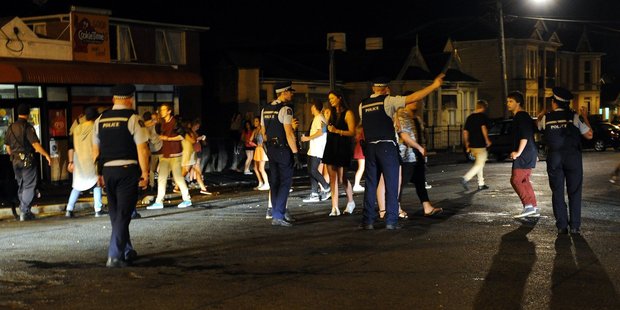 Ernest Hemingway wrote, "Write when you are drunk, edit when you are sober." It is important to have suitable literary role models. I have always been partial to a tipple. However, when it comes to the causation between intoxication and literary skills, the law of diminishing returns certainly applies.
I used to sit in the smokers' section on aircraft because I felt less self-conscious about raising my hand for an extra complimentary drink. There was always a sea of hands, because smokers tend to be boozers. Maybe it is the terminal nature of their tobacco addiction that invites a more hedonistic approach to life.
It is this lengthy career as a seasoned consumer of alcoholic beverages in a variety of seedy alehouses that gives me a degree of insight into the proposed local alcohol policy for Auckland City. Poorly conceived social and economic policies usually have a story behind them.
I commenced my drinking career at the time when 11 o'clock closing applied to most drinking establishments.
This policy meant that just after 11pm, the city streets became a rolling maul of drunken yobs unleashed on the streets at the same time. Many had turbocharged their drinking before closing time.
The effects would hit them when they emerged into the crisp evening. People fought over taxis and in bus queues. A misconstrued comment or sideways glance at a fast-food outlet on the way home could erupt into a brawl. The streets were full of unguided Exocet missiles all firing at the same time. It was safest to stay off the roads and pavements during this window of mayhem.
The proposed local alcohol policy for Auckland City involves a move back to setting closing times. Outer-city drinking establishments will close at 1am whereas inner-city establishments will all close at 3am. This will create an interesting meet-and-greet environment for door staff in inner-city bars around this time. Watches will need to be synchronised to prevent bitter disputes. It is a policy that could be described as back to the future. It is also a policy that fails to address the underlying issues around alcohol abuse.
The real culprits in the damage caused by excessive alcohol consumption are the alcohol producers and distributors and the off-licence retail outlets. The pubs, nightclubs and other drinking establishments are the unwitting victims of very effective lobbying at the national level. This is now being played out in local government alcohol policies.
The problem is preloading by drinkers on cheap alcohol from off-licence suppliers. Any seasoned drinker at pubs or nightclubs can attest that the cost of drinking to excess in such establishments is almost prohibitive. The real problem occurs at home before the night out commences.
I spent several years running university hostels in Dunedin. The students were experts at preloading before launching themselves on the town. This scenario plays out around the country each Friday and Saturday night. Few pubs are crowded before 9pm.
In 2008, a Law Commission panel was established to investigate the issues surrounding alcohol abuse in New Zealand. It reported back to the Government in 2010 with a raft of proposals to tackle the problems. It made 153 recommendations in its report. The two major proposals were to raise the drinking age to 20 and to impose a 50 per cent tax on alcohol. These two proposals were ignored by the Government whereas most of the others were adopted.
Opposition parties claimed this was due to very effective lobbying by such groups as the Food & Grocery Council, which represents alcohol producers and supermarkets. The council was led by former National MP Katherine Rich.
The Local Alcohol Policy currently proposed by the Auckland Council is a result of the watered-down law changes at this time. Local councils could determine closing times within the times specified by the law passed in 2010.
So we are back to the 1970s version of the Wild West, where drunken mobs of revellers are unleashed on the streets at exactly the same time. This creates a potential toxic brew on our streets while failing to address the real causes. I feel sorry for bar staff and owners, security staff, police and other emergency services who will be at the sharp end of these changes.
Peter Lyons teaches economics at St Peter's College in Epsom.