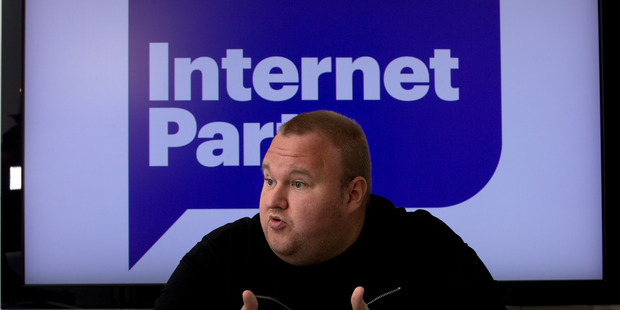 That routine slow-news-day interrogation of a politician, "Have you ever smoked marijuana?" may now have a rival: do you own, or have you ever owned, a copy of Mein Kampf? To which the Clintonesque reply, and essentially that of Kim Dotcom this week, is something like: Yes, I've read it, but I didn't sieg heil.
The timing of revelations that Kim Dotcom owns Nazi memorabilia could hardly have been worse, coming on the eve of the launch of his political enterprise, the Internet Party. For a figure that sucks up media oxygen as lungfully as Kim Dotcom, a backlash was inevitable, however, and it has come in the form of a series of leaks, apparently from disgruntled former employees. Anecdotally, the growing impression even among those who deplore the browbeating efforts to extradite the Megaupload founder, is that the novelty is wearing thin.
In this election year of small-party acrobatics, the Doctom troupe dominated the week, beginning in an unlikely flying trapeze double-act with Mana; a short-term sharing of a party list could help both parties, he argued.
Hone Harawira issued a thundering press release saying not just that he and Dotcom shared an interest in German Bundesliga football, but that any deal was out of the question unless the Internet Party would rule out dealing with the enemy, the National Party.
Dotcom cheerfully met that demand yesterday, lending a sense of choreography to it all, but such an arrangement - call it a conscious coupling - nevertheless seems unlikely to be tolerated by Mana's members. Moreover, it presents all sorts of problems in portmanteau terms. Mananet sounds a little too much like a marine mammal. Internana like a global grandmother delivery service.
That said, the fundamental trade-off in such a deal is no more or less a rort of the MMP system than, say, the successive National-Act stitch-ups in Epsom. It's simply a differently tailored set of coat-tails to cling to in evading the 5 per cent threshold rule. Instead of grasping at others' backsides, however, the Internet Party urgently needs to present a recognisable face without a surname that is a homage to an internet domain name - to show that the Internet Party is more than just a tool in a vendetta against the Prime Minister.
Vikram Kumar, the party chief executive, won wide respect when he headed Internet NZ, but has little profile outside those circles. The personality void is painfully visible in the only Internet Party promotional photograph, featuring not Dotcom, but Kumar, the party secretary, the lawyer and the press guy, assembled in the style of a proud local real estate agency.
According to one report yesterday morning, Kumar is "trying to distance the party from the internet tycoon". If so, holding the party launch at the Kim Dotcom mansion seems a funny way to go about it. As does presenting an app and website plastered with Kim Dotcom's image. As does putting up Kim Dotcom to appear on the weekend political television shows. There's no getting around it: this is the Kim Dotcom party.
Dotcom told the Herald on Sunday that a number of sitting MPs are in talks to come aboard, and "we will certainly have one MP with an electorate in the Internet Party".
Yesterday he confirmed that MP was not Hone Harawira, and if his certainty bears out, what a coup it will be. Let's just hope he hasn't been sold a dummy by Aaron Gilmore.
The party yesterday laid out alongside its vaunted membership app a set of policies and priorities that they hope will lift them from zero in the polls. And there's a lot in there that will appeal, including a focus on a high-tech economy, copyright reform, opposition to encroaching surveillance, and a vastly enhanced internet capability. In a bit of cosmic timing, the morning of the internet-prioritising party's launch yesterday saw broadband outages across Auckland.
But it's difficult to see how it can achieve the popularity surge required without a dramatic turn of events.
One of two possible electoral lifelines for the nascent party could reside with Edward Snowden, the former NSA contractor turned whistleblower.
His revelations about clandestine spying operations have made governments squirm in the US, UK, Canada and Australia, but hardly at all in New Zealand, the remaining member of the Five Eyes Network. That could be to come before September, and it would play directly into the hands of the Internet Party.
Another scenario lurks in the distance. Kim Dotcom is determined that there is evidence that the Prime Minister knew, contrary to his repeated assurances, about the activities of his most colourful Helensville constituent, and the American pursuit of the Megaupload operation, long before the eve of the melodramatic raid two years ago. If that can be proved, Key's Teflon appeal would be sorely tested. He would face real pressure to resign, and Dotcom would reap much of the political reward.
As it stands, however, that remains pure hypothesis, the longest of long shots for Dotcom and co. For the time being, he is discovering that going into politics means confronting a whole new level of scrutiny and vitriol, and there is no available app for that.