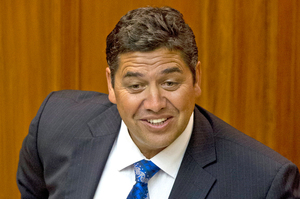 Former NZ First MP Brendan Horan has hit back at a report that Police are looking into allegations that he took money from his dying mothers bank accounts, dismissing it as "rubbish from Winston".
It was reported this afternoon that a senior Tauranga detective spoke yesterday with John Buckthought, the executor of Mr Horan's mother's estate. Stuff reported the visit was related to a letter from Mr Horan's former boss, NZ First Leader Winston Peters to the Serious Fraud Office late last year asking for the claims to investigated.
This afternoon Mr Horan said the complaint was "more rubbish from Winston".
"He is so desperate to recover ground and credibility that he has laid a complaint himself. The Serious Fraud Office were not interested but the police have a duty to investigate any complaint. I fully support the police in making an investigation. If they contact me, I will help them in any way I can.
"I have been cleared but Winston Peters was wrong and he's not man enough to say he was wrong and his reaching to these depths of filthy politics to regain some sort of credibility."
Tauranga police, Mr Buckthought and Mr Peters were all unavailable for comment this afternoon but in his final determination about Mr Horan's mother's estate Mr Buckthought said: "I can find no evidence which enable me to found a claim against Brendan".