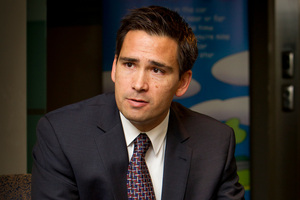 International oil and gas giants who have gained permits to explore New Zealand's seabed and land say they are not deterred by the prospect of protest because it is a natural part of the petroleum industry.
Mining executives said Greenpeace's intrusive protests and legal action against deep-sea exploration by foreign firms Anadarko and Petrobras had not put off other companies from taking an interest in searching for fossil fuels in this country.
Three new international companies, including two international heavyweights, secured some of the ten permits awarded yesterday by Energy and Resources Minister Simon Bridges.
The permits - half of them offshore - allowed the companies to survey in Reinga-Northland, East Coast. Taranaki, and Great South-Canterbury.
One of the firms, Norwegian firm Statoil, said it expected to face protest flotillas after it won a 15-year licence to search unexplored waters off Northland in the Reinga Basin.
Global exploration senior vice president Pal Haremo said: "Of course, we have concerns related to that. But I think that's something that's natural. There are risks with exploring for oil and gas, and we should work in a way that is open and transparent so that stakeholders can look into what we are doing."
He said resistance to fossil fuel exploration was not more pronounced in New Zealand than at home: "This is something that we meet everywhere ... we are facing these challenges in Norway as well."
Mr Bridges said Statoil held the only permit which could eventually allow drilling of more than 1500 metres, and possibly up to 2500 metres.
"It's great to have someone of their calibre, of their expertees, working there."
Green Party energy spokesman Gareth Hughes said that the expansion of exploration increased the possibility of a dangerous oil spill and would channel more money into Norwegian's pension fund. Statoil was 67 per cent Government-owned.
Mr Haremo said New Zealand conditions were not more difficult than Norway or any other "frontier basins".
Australian giant Woodside Petroleum and Singaporean-based Mont-D'Or also won licences, which were given out in an awards ceremony in Parliament's Grand Hall.
Texan oil firm Anadarko has faced highly-publicised protest from Greenpeace, which sailed yachts within 500 metres of the company's exploration ship off the coast of Raglan in defiance of a law change which created an exclusion zone around prospecting sites.
Anadarko spokesman Alan Seay said it would take 70 days of drilling before the company could report results.
He said the company's emergency response plan showed that in a worst case scenario an oil spill would reach New Zealand's coast, but this was only if no intervention occurred.
Mr Seay said that the plan had been sent to Maritime New Zealand.
Maritime New Zealand said it could make the document public next week, after it had vetted it for private or commercial sensitivities.
At present, New Zealand claimed around 42c per dollar or profits made by oil firms. Mr Bridges said this was much smaller than the 90c paid by firms in Norway's waters, but this difference reflected the likelihood of finding fossil fuels.
He said Government would consider raising royalties if a company made a "big find".
Permits
Offshore permits
• Statoil (Norway) - Reinga-Northland
• Woodside (Australia) and NZ Oil & Gas - Taranaki
• Woodside and NZ Oil & Gas - South-Canterbury
• NZ Oil & Gas - Great South Basin, South-Canterbury
• Octanex (NZ) - Taranaki
Onshore permits
• Mont D'Or (Singapore) - East Coast
• AWE & Mitsui E&P (Australia) - Taranaki
• TAG Oil (NZ/Canada) - Taranaki
• Eastern Petroluem & East West Petroleum (NZ/Canada) - East Coast
• Petrochem (NZ) - Taranaki