Mayor's mistress cleared of any blackmail, according to her barrister's legal opinion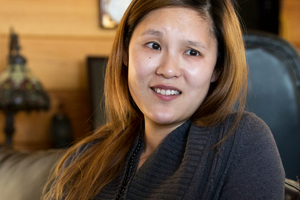 Len Brown's former mistress has a legal opinion clearing her of criminal liability.
Barrister Simon Buckingham has provided a legal opinion to Bevan Chuang's supporters. He told the Herald on Sunday there appeared to be no evidence to implicate Chuang for any potential blackmail under the Crimes Act.
Chuang and failed mayoral candidate John Palino have confirmed they met after their failed election bids, two days before the scandal of her relationship with mayor Brown was made public. Palino said they had merely discussed a threatening text they had both received and he was unaware of Chuang's sexual relationship with the mayor.
Buckingham did not think Chuang had committed any criminality due to clear evidence she had been pressured into making statements that made the affair public.
Hamish Price, who has been acting as a spokesman for Chuang, confirmed Buckingham had provided a legal opinion in the matter.
Blackmail is punishable by up to 14 years in prison.
Meanwhile, a public relations expert said Palino could still be a future mayor of the SuperCity. Pead PR managing director Deborah Pead said no one had escaped the scandal unsullied but some of the leading players would in time be able to make a fresh bid for public office.
"I don't think you can write Palino off," said Pead. "He's not squeaky clean in all this but remember Luigi (Wewege) is definitely the scapegoat and probably deservedly so. If I were him I would pack up and go back to wherever he came from."
Pead said Chuang appeared to be misled and manipulated by Wewege.
"For someone with political aspirations she has huge naivety to think her past wouldn't be exposed."
Pead said she wouldn't be surprised if she tried to return to public office but "I can't see there would be many people who will really give her a chance."
- Additional reporting by Lynley Bilby

• Read the Herald on Sunday exclusive interview with Luigi Wewege here.