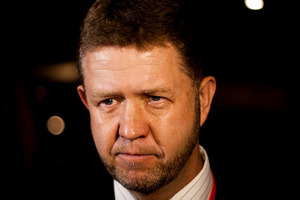 A poll by TV One show Q+A has shown David Cunliffe to be the early favourite to lead the Labour party following David Shearer's resignation.
The telephone poll of 517 people showed David Cunliffe as the preferred candidate on 29 per cent, followed by Jacinda Ardern on 15 per cent, and Grant Robertson on 10 per cent.
Shane Jones polled at 11 per cent, followed by Andrew Little on 9 per cent.
Ms Ardern and Mr Little have ruled themselves out of the leadership race, while Mr Jones is yet to announce whether he will run.
Forty-five per cent of those polled thought a change in leadership would have no effect on Labour's chance at the next election, while 33 per cent thought it would increase their chances, 7 per cent thought the party's chances would decrease, and 15 per cent didn't know or thought it would depend on the leader.
MPs have until 10pm Monday night to declare their intention to run. The leader will be elected by ballot, with 40 per cent of votes coming from the Labour caucus, 40 per cent from party members and 20 per cent from unions.
Speaking on Q+A this morning, Labour Party president Moira Coatsworth said it was too early to be looking at poll results, as the candidates had not yet been confirmed.
"I don't think people will have been giving this much attention so far, so let's wait and see when we know who the candidates are and they're really up and campaigning."
Former party leader Mike Williams denied suggestions former Prime Minister Helen Clark was involved in Mr Shearer's departure, saying he was in regular contact with her, and while she had an opinion she was not involved.
"She doesn't try to manipulate matters from New York the way John Key thinks she does."
Political scientist Jennifer Curtin said having grass-roots party members in the leader race could benefit Labour by having a flow-on effect on turnout for the general election.
- APNZ