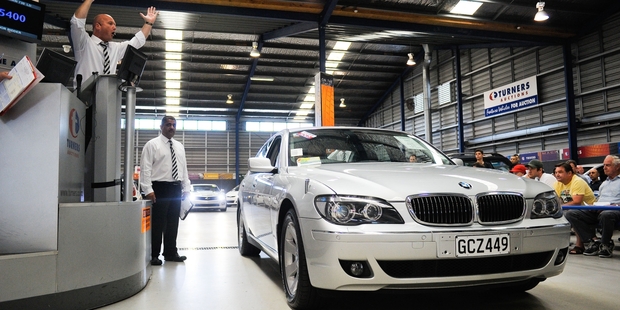 The service that provides ministers with chauffeur-driven and self-drive cars is always a touchy one with some taxpayers, considering it costs more than $7 million a year. The current fleet was introduced in 2011 and is coming up for replacement. But the decision on this is due to be made next year and could make for some embarrassing headlines in what is election year. It may be that ministers and officials will come up with some alternative solutions, such as hiring cars instead of buying them or even tightening their belts a bit and putting up with their four-year-old cars.
Pressing foreign flesh
With the election next year, John Key is looking to pack a lot of international travel into the last quarter of this year. On the agenda are trips to Moscow and Seoul to try kicking some life into stalled trade talks with both countries. Key is also working towards pressing the flesh at the UN in New York in September, addressing the General Assembly and seeking support for New Zealand's bid for a place on the Security Council. There are also plans for a return to Europe, with Brussels, London and France on the itinerary.
Nat-style man ban
After some dithering, David Shearer sorted out the man-ban proposal. John Key tried to be helpful by suggesting Labour just go out and find the best candidates. However, it's instructive to note that Labour's grass roots wanted a way of ensuring more women could become MPs, whereas National has systems to achieve this without rules or quotas. The Nats' board has veto over any candidate, and pre-selection committees can reduce a field of candidates to between two and five and by this method exclude all men. The best example of this being done was in the 1990 election when Auckland was heading for an all-male slate. The party did not allow men to go to selection in Eden or Titirangi, and so two women, Christine Fletcher and Marie Hasler, became the candidates and were subsequently elected MPs.
Timely tips
Former PM Helen Clark is returning to Wellington next month to give a lecture at the Institute of International Affairs. The subject of her talk is "Conflict and Development" - appropriate considering the state of her former caucus at the moment. Clark, who is now head of the United Nations Development Agency, will no doubt diplomatically stay out of local politics while here ... well, publicly, at least.
Land bank in disrepair
Treaty Negotiations Minister Chris Finlayson is asking officials to see what can be done about properties "land-banked" to help settle Treaty claims. The properties are easy to find - just look for boarded-up, vandalised former schools or going-to-seed railway land in a prime spot. The idea was as Crown properties became available they would be set aside and handed out as part of redress. Although the Treaty settlement process has sped up, the properties have gone to rack and ruin over the decades with many iwi turning up their nose at being offered "trash".
Where there's smoke ...
The Health Promotion Agency is looking at using tobacco "denormalisation" advertising for the first time. The public health campaigns have had some success overseas, but they are not without controversy as in some countries they accuse the tobacco industry of using manipulative tactics to promote smoking. At the more extreme end of the spectrum the health campaigns have called for bans on smoking in movies and in some cases the removal of smoking scenes from old movies. Would Once Were Warriors have the same impact if smoking was removed? Or it could even be taken a step further with scenes of drinking and violence taken out.
Win for Mr Whippy
Radical deregulation, British-style. The Guardian reports that the Code of Practice on Noise From Ice Cream Van Chimes Etc, 1982 (yes, really) has been relaxed. Chimes can now play for up to 12 seconds instead of the previous 4-second limit, once every two minutes, instead of three, and vans can even chime while stationary. Who says the battle against red tape is being lost?
Test dummies
Instead of using animals to test whether or not "legal high" psychoactive substances are safe for humans, maybe the testing should be done by volunteers from the great number of people who want to use the substances. Also on the use of animals, the Insider notes that police and customs dogs used for drug detection are close to being drug addicts themselves. As part of their training, they are made to sniff and inhale large amounts of the drugs, which they are later used to sniff out. No wonder they're so good at the job.