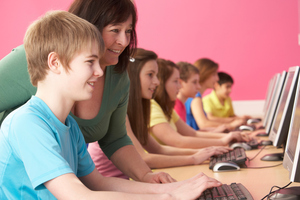 National education data shows schools are not meeting ambitious targets set by the Government as part of its better public service targets and Maori and Pasifika students are still trailing in achievement.
Only four of the 16 regions across New Zealand are meeting a target of 98 per cent of children participating in early childhood education by 2016.
Otago, Christchurch, Nelson and Tasman are the only regions that are meeting the Government's targets in early childhood education.
Figures released last week as part of a snapshot of how the Government are meeting better public service targets showed nationwide 95.7 per cent of children starting school had participated in early childhood education last year, an increase of 0.7 per cent from the previous year.
Education Minister Hekia Parata today released a national snapshot today of how the 16 regions are achieving in meeting Government targets set for early childhood and secondary education.
It is the first time regional data has been released by the Education Ministry.
The Government aims to increase the number of 18-year-olds gaining NCEA Level 2, or equivalent, to 85 per cent by 2017 - data shows none of the 16 regions are meeting this target.
The closest regions are Nelson and Otago on 82.7 per cent, and Wellington and Auckland on 81.8 and 81.1 per cent.
Nationally 60.9 per cent of Maori 18-year-olds are meeting the target, 68.1 per cent of Pasifika and 82.1 per cent of non-Maori 18-year-olds are reaching level 2 NCEA.
Another loose target set by the minister, but not part of the better public service target, is for 85 per cent of children reaching at, or above, the national standard in reading, writing and maths.
None of the regions are currently reaching this target - the closest is Southland where 80 per cent of children are achieving the National Standard for reading.
The regional data has shows Maori and Pacifika students are still trailing non-Maori and Pasifika students - with a glaring division in the Canterbury and Auckland regions.
Maori in Auckland are trailing trailing Pakeha/European by 30 per cent and 29 per cent in Canterbury.
All 16 regions showed a division in achievement of NCEA level 2 by Maori and Pasifika students.
Maori students in Otago are doing the best with 66.8 per cent of students reaching NCEA level 2 or greater.
The gap between Maori and non-Maori achievement in NCEA level 2 targets is the lowest in Hawkes Bay with only a 10 per cent difference in achievement of NCEA level 2.
Ms Parata said the data was for regions to look at and understand.
"The quality of skills in a region will help determine the productivity and well-being of a region.
"The more data we have the more clearly we can be about where we need to invest further.
"When you look across all of these regional data you will see that every region has pockets of challenge and every region has kids that are doing really well," she said.
HOW THE REGIONS ARE DOING:
Northland:
ECE 2013 - 92.1 per cent
National standards 2012:
Reading - 78.4 per cent
Maths - 70.3 per cent
Writing -67.7 per cent
18-year-olds meeting NCEA level 2 - 76.1 per cent
University Entrance - 39.4 per cent
Auckland:
ECE 2013 - 92.1 per cent
National standards 2012:
Reading - 75.4 per cent
Maths - 74.3 per cent
Writing - 69.5 per cent
18-year-olds meeting NCEA level 2 - 81.1 per cent
University Entrance - 55.2 per cent
Waikato:
ECE 2013 - 95.8 per cent
National standards 2012:
Reading - 75.2 per cent
Maths - 70.5 per cent
Writing - 65.9 per cent
18-year-olds meeting NCEA level 2 - 75.7 per cent
University Entrance - 39.7 per cent
Bay of Plenty:
ECE 2013 - 95.3 per cent
National standards 2012:
Reading - 78 per cent
Maths - 73.6 per cent
Writing - 72.1 per cent
18-year-olds meeting NCEA level 2 - 79.1 per cent
University Entrance - 44.9 per cent
Gisborne:
ECE 2013 -94.5 per cent
National standards 2012:
Reading - 73.8 per cent
Maths - 65.6 per cent
Writing - 66.6 per cent
18-year-olds meeting NCEA level 2 - 69.9 per cent
University Entrance - 38.4 per cent
Hawke's Bay:
ECE 2013 - 96.1 per cent
National standards 2012:
Reading - 75.3 per cent
Maths - 70.4 per cent
Writing - 68 per cent
18-year-olds meeting NCEA level 2 - 77.1 per cent
University Entrance - 46.1 per cent
Taranaki:
ECE 2013 - 95.5 per cent
National standards 2012:
Reading - 78.2 per cent
Maths - 71.3 per cent
Writing - 67.5 per cent
18-year-olds meeting NCEA level 2 - 78.8 per cent
University Entrance -45.5 per cent
Manawatu - Wanganui:
ECE 2013 - 97.2 per cent
National standards 2012:
Reading - 77.4 per cent
Maths - 73.6 per cent
Writing - 70 per cent
18-year-olds meeting NCEA level 2 - 77 per cent
University Entrance -43.9 per cent
Wellington:
ECE 2013 - 97.3 per cent
National standards 2012:
Reading -77.4 per cent
Maths - 73.6 per cent
Writing - 70 per cent
18-year-olds meeting NCEA level 2 - 81.8 per cent
University Entrance -53.9 per cent
Tasman:
ECE 2013 - 98.1 per cent
National standards 2012:
Reading - 77.4 per cent
Maths - 73.6 per cent
Writing - 70 per cent
18-year-olds meeting NCEA level 2 - 75.8 per cent
University Entrance - 42.5 per cent
Marlborough:
ECE 2013 - 95.7 per cent
National standards 2012:
Reading - 77.4 per cent
Maths - 73.6 per cent
Writing - 70 per cent
18-year-olds meeting NCEA level 2 - 78.4 per cent
University Entrance -48 per cent
Nelson:
ECE 2013 - 98.4 per cent
National standards 2012:
Reading - 77.4 per cent
Maths - 73.6 per cent
Writing - 70 per cent
18-year-olds meeting NCEA level 2 - 82.7 per cent
University Entrance -54.6 per cent
West Coast:
ECE 2013 - 94.9 per cent
National standards 2012:
Reading - 77.4 per cent
Maths - 73.6 per cent
Writing - 70 per cent
18-year-olds meeting NCEA level 2 - 74.5 per cent
University Entrance - 32.2 per cent
Canterbury:
ECE 2013 - 98.3 per cent
National standards 2012:
Reading - 77.4 per cent
Maths - 73.6 per cent
Writing - 70 per cent
18-year-olds meeting NCEA level 2 - 78.3 per cent
University Entrance - 47.9 per cent
Otago:
ECE 2013 - 98.5 per cent
National standards 2012:
Reading - 77.4 per cent
Maths - 73.6 per cent
Writing - 70 per cent
18-year-olds meeting NCEA level 2 - 82.7 per cent
University Entrance - 51.9 per cent
Southland
ECE 2013 - 96.8 per cent
National standards 2012:
Reading - 80 per cent
Maths - 75.1 per cent
Writing - 71.4 per cent
18-year-olds meeting NCEA level 2 - 74.1 per cent
University Entrance - 44.4 per cent
- APNZ