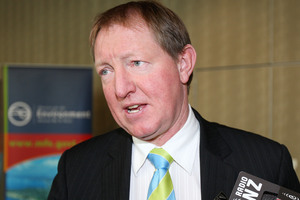 Housing Minister Nick Smith wants Auckland to break out of its boundaries, saying that without change, ownership dreams are being killed.
"If you put a straitjacket around the city and say only land for residential development is in that defined line, you're gifting a massive capital gain to those rural land owners," he said, citing a Flat Bush property bought in 1995 for $890,000 and now on the market for $112 million - a situation he called "obscene".
Land bankers had been encouraged to hold their parcels and strangle supply, the minister said.
"Because they have a monopoly, they are able to make those sorts of profits and the best way to stop it is to actually create a greater degree of freedom," he said, citing the housing accord between the Government and city council intended to improve housing affordability.
"We cannot walk away from the issue that restrictive land supply policies across the world are at the heart of the housing affordability issue," Dr Smith said.
"Why are people land-banking? They are behaving to a perfectly logical commercial incentive."
Developers with 100 sections who had sold out five years ago would be kicking themselves because prices had shot up so much, he said.
"They've appreciated in value by approximately 20 per cent a year. The cost of capital is going to be about 8 per cent a year. People will stop land-banking when they think we've got our regulatory act together between local and central Government and we're not going to allow that sort of ongoing monopoly of land supply. The land banker had no incentive to do anything," Dr Smith said.
The Organisation for Economic Co-operation and Development and the International Monetary Fund had both flagged house prices as a fiscal risk for this country and that needed to change.
"The long-term objective is stabilisation of house prices and incomes growing," he said, so the long-term ratio between the two came more into balance.
See Mayor Len Brown talking about Auckland planning issues today at www.nzherald.co.nz.
Property news
Yesterday: QV data and Westpac issue housing reports.
This week: Real Estate Institute due to release monthly data.
Thursday: Reserve Bank monetary policy statement due - widely expected to usher in loan-to-value ratios.