Six Afghans who helped interpret for New Zealand's SAS and fear retribution may be able to resettle here.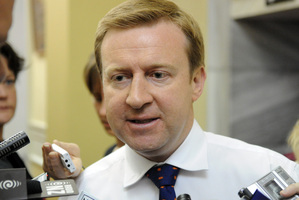 The Government says it will consider asylum for translators who worked with New Zealand's SAS soldiers in Afghanistan and have been left jobless and in danger of local retribution since the withdrawal of the troops.
The Herald revealed six translators who worked with the SAS in Kabul between 2009 and 2011 had not been offered the same resettlement package as local interpreters who helped New Zealand's Provincial Reconstruction Team (PRT) in Bamiyan.
They feared for their lives because the Taleban was targeting locals who had co-operated with foreign forces and had also struggled to find work because they were considered disloyal.
The Defence Minister, Jonathan Coleman, said the interpreters had found new jobs with the Norwegian military after the SAS left Afghanistan, and therefore were not offered the same package as the PRT.
"We always said we wouldn't leave anyone who was at serious risk, who have been of serious assistance to New Zealand forces and were placed at risk because of their role with New Zealand forces.
"I've always said it's better to under-promise and over-deliver. We're quite open-minded about it - they've got to put in an application."
Kabul-based interpreter Mr Mohammed, 23, said he welcomed the minister's invitation.
But he questioned the criteria for resettlement, saying if he had known that getting a new job lessened his chances of resettlement he would have remained unemployed.
The interpreters were also concerned that an application for asylum could be more complex and time-consuming than the package offered to PRT staff.
Dr Coleman said "it shouldn't take long to sort out" but officials would have to take into consideration each interpreter's individual circumstances and the risks they faced.
The SAS translators first applied for asylum in April 2011, before a law change which allowed PRT interpreters to seek refuge in New Zealand.
In March, the New Zealand Embassy in Kabul said the resettlement offer was limited to interpreters who worked with the PRT and that they had other options such as writing to the Immigration Minister.
Mr Mohammed and his colleagues had letters of recommendation from senior Defence Force officials. He recalled working alongside Victoria Cross holder Corporal Willie Apiata and once cooking a rice dish for Prime Minister John Key in Kabul.
"If we said which is the top ISAF nations to interpreters, New Zealand would be at the top of the list. They are very friendly to everyone."
All 30 interpreters who worked with the PRT were resettled in New Zealand last month.
Immigration Minister Michael Woodhouse's office said any Afghans who fell outside the original resettlement package could apply through the refugee quota programme.