Under-fire MP refuses to resign and it would take caucus too long to expel him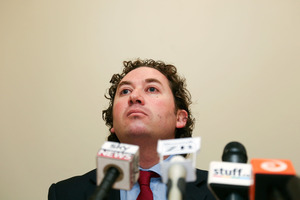 The National Party appears to be stuck with under-fire MP Aaron Gilmore after he defied Prime Minister John Key's suggestion to resign and pledged to remain in Parliament.
Mr Gilmore had been in hiding since Mr Key said he had lost confidence in him on Tuesday, but made a surprise appearance in the House for Question Time yesterday. He confirmed that he would not stand down as an MP. The bottom-ranked MP is under pressure to resign over a boozy night in Hanmer Springs.
Mr Gilmore's past has come under greater scrutiny, with questions being asked about how his contract ended at the Ministry of Business, Innovation and Employment. The ministry was seeking legal advice before responding to questions on the issue.
Mr Key said he could still not reconcile Mr Gilmore's account with other reports of the incident, and repeated his suggestion that the MP should resign.
"He's got to be able to look the New Zealand public in the eye and say 'Here's the version of events that's actually correct'."
He added: "There's nothing wrong with making mistakes - people make them under the influence of alcohol. But the public is entitled to a straight answer and that is what I have struggled to get from his office."
Mr Key emphasised that the process of expelling an MP for caucus took so long that he would rather wait until the party list was revised for the general election next year. Some of Mr Gilmore's colleagues believed he had decided to stay on because he had no other source of income and his job prospects would be diminished if he resigned.
Mr Key was visibly frustrated at the attention given to Mr Gilmore in a week in which job numbers had improved and the Mighty River Power float was taking place.
"The vast bulk of Kiwis would say 'Who cares about Aaron Gilmore?"'
Mr Gilmore's dispute at the hotel was first revealed last Thursday, and he did not publicly answer questions on it for a further five days. Mr Key initially refused to take action without a formal complaint, but then referred the problem to party president Peter Goodfellow after text messages cast doubt on whether Mr Gilmore had been honest about his argument with a barman at the hotel.
Mr Goodfellow planned to meet Mr Gilmore as soon as possible. National Party general manager Greg Hamilton said that he believed the meeting would focus on the incident at the Hanmer Springs hotel, and not any other allegations.