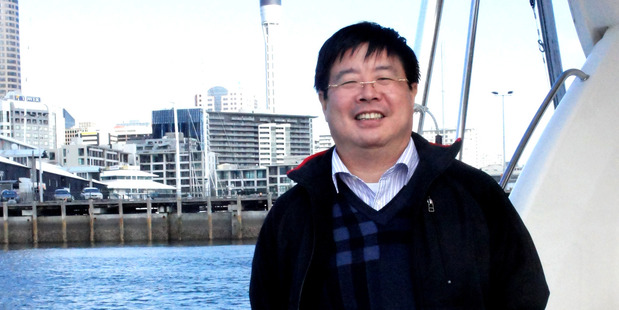 Chinese billionaire Jiang Zhaobai, who now owns the Crafar dairy farming empire, is back in New Zealand forging a relationship with Maori and looking for further deals in the dairy and hotel industries and in Christchurch.
Mr Jiang, ranked 82 on the Forbes China rich list, flew into Auckland early last Saturday and later that day attended the Taniwha and Dragon Festival at Orakei Marae.
Mr Jiang, whose personal wealth is estimated at US$1.2 billion, was invited to the festival by Maori Affairs Minister Pita Sharples when the pair met up during the recent John Key-led trade visit to China.
Mr Jiang's company Shanghai Pengxin last year successfully completed its controversial purchase of the 16 Crafar dairy farms. The deal sparked public fears over foreign - particularly Chinese - ownership of New Zealand land and was challenged in court twice by a rival consortium of buyers led by Sir Michael Fay.
New Zealand based Shanghai Pengxin executive Terry Lee told the Herald that while there no immediate plans for further farm purchases, he and Mr Jiang were "talking to people in different areas and looking for opportunities", during his visit.
He confirmed Mr Jiang, who wants to build several top-class boutique hotels in New Zealand's major cities for discerning Chinese visitors, would visit Christchurch later this week.
Mr Lee said he and Mr Jiang didn't have a specific plan for investing in Christchurch, "but we have some interest in a project".
The Herald understands Mr Jiang may meet with Maori Trustee Jamie Tuuta during his visit.
Mr Tuuta visited China for Shanghai Pengxin's annual meeting earlier this year and has said ongoing talks with the company are focused on further farming acquisitions or partnerships, as well other opportunities, including forestry conversions in the central North Island.
Mr Jiang's visit comes as the Overseas Investment Office this week confirmed it had approved a series of big investments by Chinese interests.
That includes the sale of ten forestry blocks throughout the North Island by the NZ Superannuation Fund to Chinese Government owned China National Forest Products.
The total area of land being sold for an undisclosed sum at 14,000ha dwarfs the Crafar farm deal which totalled just under 8000ha.
China National Forest Products says it intends replanting the forest once they are harvested to maintain continuity of supply.
The OIA also this week detailed its approvals of Chinese company Yashili's $212 million milk processing plant at Pokeno and China's largest dairy company Yili's $214 million investment in an infant formula plant in South Canterbury.
Jiang Zhaobai
* Age: 49
* Net worth: US$1.2b
* Business interests: Real estate, metals and specialty chemicals, sharebroking, dairy.