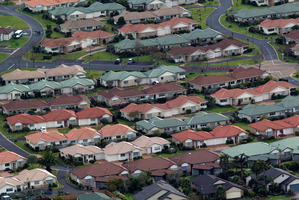 The Hobsonville Land Company says claims its affordable homes will include a 300sq m four-bedroom stand-alone house for less than $485,000 are wrong - and the biggest it can offer for that price is a three-bedroom house less than half that size.
The Hobsonville Pt development was dragged into the debate over affordable housing in Parliament yesterday after Labour's Annette King said the Ministry of Building, Innovation and Employment had provided information showing National's affordable housing plan for Hobsonville Point included a four-bedroom house on 300sq m for less than $485,000.
However, Hobsonville Land Company chief executive Chris Aiken said the largest house in the under-$485,000 affordable homes project would be a three-bedroom stand-alone home of 135sq m.
"We certainly couldn't do anything at Hobsonville Pt for any more than that without a pretty big subsidy."
He said the affordable homes part of the development also included some 100sq m two-bedroom stand-alone houses for between $390,000 and $400,000 which were completed.
Ms King said the information was provided by MBIE after she questioned them about the types of homes being built under National's new policy to include 600 homes for less than $485,000.
National said last November Hobsonville would include 10 per cent of homes for under $485,000 - about 500-600 homes - and half of those would be for less than $400,000.