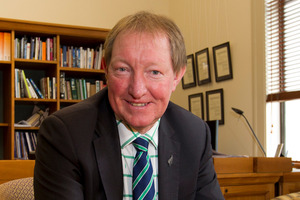 New Housing Minister Nick Smith says there is no silver bullet to address the issue of housing affordability in New Zealand.
Dr Smith resigned last March after the Herald revealed he had written a testimonial supporting the ACC claim of his friend Bronwyn Pullar - at the time when he was ACC Minister.
He was given the Housing and Conservation portfolios as part of Prime Minister John Key's reshuffle yesterday, which also saw the promotions of Simon Bridges, Nikki Kaye, Amy Adams and Jonathan Coleman, and the demotions of Kate Wilkinson, Craig Foss and former Housing Minister Phil Heatley.
Dr Smith told TV3's Firstline programme this morning that he would be looking closely at housing affordability.
"New Zealand historically had very high levels of home ownership but in the last 25 years it's been in decline.
"There is no magic silver bullet. If there was one it would have been fired a long time ago. It's about land supply, it's about the cost of infrastructure that impacts on subdivision costs, it's about the actual costs of building a house, and it's also about compliance costs."
The Government would need to look at all those issues if it was to help New Zealanders own their own homes.
He said the main area that worried him was around land supply.
"The cost of the section has gone up so much more over the past 20 years than the actual cost of building a house."
Yesterday, Mr Key said Dr Smith would be working with local governments on housing affordability.
"He's a guy with lots of energy and ideas and he doesn't leave too many stones unturned. I think we can see in the housing sector him thinking right across the spectrum and working with a lot of different ministers to get results."
- APNZ