Special report: Career diplomat for 31 years very anxious for NZ's foreign service as he prepares to move permanently to UK.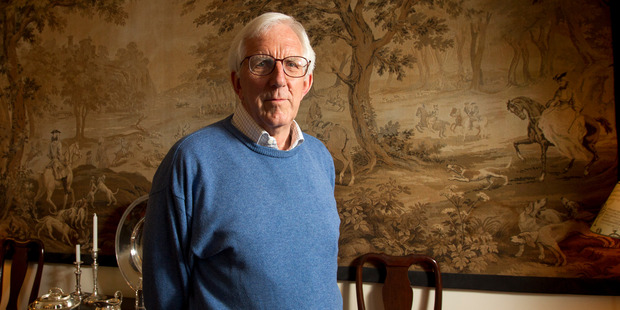 If discretion is one of the major prerequisites for a career in the senior ranks of the public service, particularly in diplomacy and espionage, it's easy to see why Richard Woods has done so well.
As he prepares to leave New Zealand, in whose service he has worked for 46 years, Mr Woods speaks with pride about being born on the South Island's West Coast, but he won't talk about his time as a top spy.
He is pleased to talk about how, as a young trade official based in Rome, he persuaded Joanna Proby to marry him, but again his seven years as head of the Security Intelligence Service is off limits.
He affectionately recalls the opportunities he had as a young diplomat in the aftermath of the first oil shock, setting up new diplomatic posts in Tehran and Bahrain. But the Ahmed Zaoui affair is not a topic he will linger on.
He is prepared to speak out about the potential for the current restructuring at the Ministry of Foreign Affairs and Trade to wreck this country's diplomatic service, but he says several times during a recent interview, "I'm not going to talk about the SIS".
Mr Woods spoke to the Herald just before he and his wife were to pack up their stately home in Molesworth St, not far from Parliament, before their move to London.
The various government body directorships he has held since stepping down as SIS director in 2006 have come to an end and while the move will be a wrench, he and his wife now want to be near their two sons and their families there.
But while Mrs Woods has just published an intriguingly gossipy history of the wives, spouses and partners of New Zealand's diplomats, there will be no revelations from her husband.
Mr Woods is taking the inside story of his time running the SIS in the post 9/11 world with him.
In a cultured accent just this side of posh and which bears little trace of his West Coast origins, he maintains that being born Greymouth 71 years ago was "the single career achievement of which I'm most proud".
Almost 30 years later, after obtaining a degree in French from both Canterbury and Oxford Universities and subsequently learning Italian in order to secure a trade posting to Rome, he did "the two most important things in my life".
"One was marry Joanna. The other was I saw what the ambassador did and I thought, 'Ah, that's what I would like to do'."
Mr Woods and New Zealand's diplomatic service took to each other quickly.
Shortly after he transferred to the service when the first oil shock threatened the security of fuel supplies, then-Foreign Affairs Secretary Frank Corner asked him to go to the Middle East to "find out about oil".
That was the first of three missions in quick succession to the Middle East. On the third, at the age of 32, he was told to "look around Tehran as if we were going to set up an embassy there and as if you were the one to do it".
He did set up the embassy the following year and was then asked to perform a similar task in Bahrain, which was New Zealand's first diplomatic station in the Gulf states.
From there, he held a variety of senior postings including ambassador to Iran during that country's war with Iraq, and ambassador to Greece, Russia and finally France.
After four years in Paris, he was preparing to return to Russia when he applied for and landed the SIS job in 1999. So did the work of a top spy require a different skillset from that of a top diplomat?
"Not entirely," he says, before repeating that he won't talk about his time with the service.
However, he does make the observation that his international experience, "particularly the Middle East experience, turned out to be particularly relevant after 9/11".
"The significance of Islamist terrorism was quite strong."
Beyond that, he says, it's not appropriate for anyone other than the current SIS director to comment on the service's work.
He is willing, however, to speak out about the current round of restructuring at the Ministry of Foreign Affairs and Trade. "I myself find what's going on there sad and worrying. Sad because so many people have left the ministry [last] year.
"A lot of people have suddenly found the careers to which they'd devoted their lives and families' lives suddenly interrupted and that must be pretty tough."
The changes are worrying in that hard-won skills and experience are being lost from the foreign service.
"New Zealand right up until [last] year had a pretty effective foreign service and we need a very effective foreign service because we're a very small player on the big world stage.
"I know from experience we're usually playing from a weak hand and you need some skills to negotiate successfully in those circumstances and some of those skills come from experience.
"Diplomatic experience as such does not seem to be valued at the moment and I think that is unfortunate."
His early career as a diplomat illustrates the point that "you can do a lot with youth and energy". However, "you also need experience".
He believes some of the changes may eventually have to be reversed.
"If they find they're losing people and they no longer have an effective career foreign service then I think the decisions will have to be revisited. That's an if, but I think it's likely to happen; let's wait and see."
Asked, as the interview draws to a close, what the worst moment of his career was, Mr Woods has a change of heart.
"Well, I will talk about the SIS - it was some of the public attacks on me. The Sunday Star-Times printed a whole lot of rubbish about me and I couldn't really defend myself."
He is referring to articles which suggested he had a conflict of interest in dealing with Algerian refugee Ahmed Zaoui because while posted in Paris he also had responsibility for New Zealand's relationship with Algeria.
"The Prime Minister, I'm glad to say, said: 'The director can't speak up for himself but I can and I will and these are all lies and smears', which was perfectly true."
With some prodding, he says it's unfortunate the Government Communications and Security Bureau's work has now become the focus of media and public scrutiny as that of the SIS did under his watch. But that's as far as he will go.

Richard Woods
*Born Greymouth 1941
*BA in French from Canterbury University
*BA in French from Brasenose College, Oxford University
1968-72
Assistant Trade Commissioner, Rome
1975-77
Ministry of Foreign Affairs First Secretary, Tehran
1977-79
Consul-General, Bahrain
1982-84
Deputy Head of Mission, Washington DC
1984-87
Ambassador, Tehran
1988-90
Ambassador, Athens
1993-95
Ambassador, Moscow
1995-99
Ambassador, Paris, and Permanent Representative to OECD
1999-2006
Director and CEO, New Zealand Security Intelligence Service