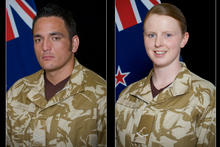 Hungary's Ministry of Defence has again issued a statement to deny repeated claims that New Zealand soldiers are coming under attack because of their lack of patrols.
Its statement also expresses condolences over the deaths of New Zealanders in Afghanistan on Sunday.
But it has again denied claims that it does not patrol at night in Baghlan province or in areas near the border of Bamiyan where New Zealand is based and where insurgents are thought to be increasing.
After the deaths of two New Zealand soldiers earlier this month, Prime Minister John Key suggested that insurgent problems were growing in the border between the provinces because the Hungarian refused to patrol at night.
He said New Zealand would extend its patrols to fill the gap created by the Hungarians.
Hungary denied the claims at the time and issued another statement overnight in response to the claims being repeated.
Aniko Farkas, the chief information officer in Hungary's Ministry of Defence, says that the rotation of Hungarian soldiers that returned home in March had patrolled more than 700 times - "between three and five times daily - day and night - by using vehicles and they also patrolled on foot in the entire area of the province."
"For this very reason the Hungarian Ministry of Defence Forces repudiates the allegations against the Hungarian soldiers.
The Hungarian-led Provincial Reconstruction Team in the province of Baghlan met the requirements of the International Security Assistance Force and they fulfilled their duties on a high level.
"We are sorry for the fact that the judgment of the Hungarian soldiers lack the allied and comradely attitude and spirit, which is very important for the Hungarian Defence Forces and we wish to preserve it in the future by all means.''
The statement says the Ministry of Defence would continue to emphasise that it was not the job of the Hungarian PRT to eliminate Taleban resistance nests because combat groups established for this reason in the province fulfilled that task.
By Audrey Young

Email

Audrey