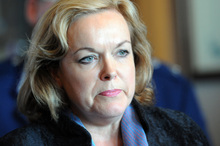 Labour MP Trevor Mallard says he has received a letter from ACC Minister Judith Collins' lawyer threatening to proceed with defamation action unless he apologises and reveals his source.
Ms Collins announced last month that she would take legal action against Mr Mallard and fellow Labour MP Andrew Little, as well as Radio New Zealand, for making allegedly defamatory remarks about her over the case of a leaked email about an ACC client.
The minister has been accused of bluffing about the legal action. However, Mr Mallard confirmed today that he had received a letter from Ms Collins' lawyer.
"They're asking me to give up my source and my emails, and they are again asking for a retraction and an apology," Mr Mallard told APNZ.
"I'm reserving my position. Clearly I don't make formal responses without advice."
Mr Mallard said he was tempted to invoke a "Arkell vs Pressdram" response - referring to a British case concerning the Private Eye magazine.
In the 1971 case, when told by the plaintiff's lawyer that his client's attitude to damages would "be governed by the nature of your reply", the magazine replied: "We would be grateful if you would inform us what his attitude to damages would be were he to learn that the nature of our reply is as follows: F*** off."
The letter from Ms Collins' lawyer gave a deadline of this Thursday.
Mr Little said he had also received a letter and was speaking to a lawyer, but that he "wasn't losing sleep over it".
"Basically it says please apologise the way we've asked you to do before, and if you don't we will proceed," he said.
"Subject to talking further with the lawyer, the letter hasn't changed my view that I don't think an apology is required."
Ms Collins has continued to deny allegations from the Opposition that she or her office was responsible for leaking an email sent to her by former National Party president Michelle Boag.
The email gave details about Bronwyn Pullar, the ACC claimant who went to the media last month after being mistakenly sent the details of about 7000 ACC clients.
Privacy Commissioner Marie Shroff is investigating how the email got to the media, and Ms Collins has told Parliament she will resign if the leak is found to have come from someone in her charge.
- APNZ
By Amelia Romanos

Email

Amelia