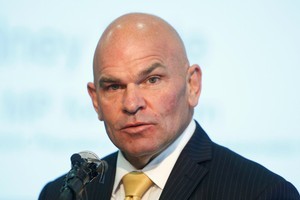 A bill capping core Government spending increases to the rate of inflation and population changes was introduced to Parliament yesterday as part of National's support agreement with Act.
But it is not expected to pass a second reading after consideration by the finance and expenditure select committee.
The Spending Cap (People's Veto) Bill was introduced by Regulatory Reform Minister and former Act leader Rodney Hide.
It was referred to in the confidence and supply agreement as the Taxpayers' Rights Bill.
It provides that the only way the cap can be lifted is by majority vote in a referendum.
"New Zealanders have learned from the recent recession that we all need to live within our means," said Mr Hide. "Spending more than we can afford over the long term is recipe for disaster.
It's important that Governments learn the same lesson."
The explanatory note to the bill says the cap would still allow fiscal policy to play a stabilising role in response to the economic cycle and shocks.
Unemployment benefit expenses were excluded so they could continue to expand and contract through the cycle without placing pressure on other expenses.
The costs of natural disasters or emergencies were excluded.
Capital spending would be excluded from the spending cap because it was constrained by the Government's debt target.
Also excluded were borrowing expenses and impairment losses, such as those associated with the student loan book.
The Treasury's regulatory impact statement on the bill said three alternative approaches were explored during the development of the bill in 2010 - 11: a self-imposed spending cap; quantifying a longterm expense objective; and tightening the fiscal management approach - the rules around revenue and expense decisions in the Budget process.
Treasury did not support imposing constraints on the ability of the Government to set fiscal strategy via hard parameters in law.
It preferred to enhance transparency under the Public Finance Act 1989 such as requiring the Government to state its longterm expenses in numerical terms.