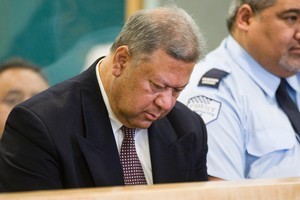 Lawyers for Taito Phillip Field were in the Supreme Court this morning attempting to have the jailed former MPs fraud convictions overturned.
In October 2009, Field was jailed for six years after being convicted by a jury in the High Court at Auckland of 11 charges of bribery and corruption as a MP, and 15 charges of perverting the course of justice.
He was charged after Prime Minister Helen Clark ordered an inquiry into allegations he had traded immigration favours for tiling, painting or plastering work on his properties in New Zealand and Samoa.
The total value of the work done was estimated to be in the tens of thousands of dollars, though the exact value was disputed.
The Court of Appeal last year dismissed an appeal by Field, upholding the trial judge's interpretation of the legislation, jury direction, handling of evidence, and conviction and sentencing decisions.
In the Supreme Court today, the defence questioned terms used in the case, and whether the jury had been properly directed on the term "corruption".
The hearing was continuing.
Field was the first MP to be jailed for bribery, corruption and perverting the course of justice. He was an MP for 12 years, for Labour then as an independent.
- NZPA