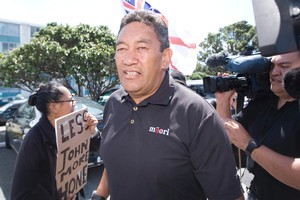 The Maori Party candidate for the Te Tai Tokerau byelection will be selected today, with movie actor Waihoroi Shortland one of the leading prospects.
Mr Shortland, lawyer Mere Mangu and Whangarei Maori Party official Solomon Tipene will be interviewed at Waitangi today by a panel of eight.
They should know their fate tonight. A press conference to announce the successful candidate will be held tomorrow.
Mr Shortland, a charismatic and articulate former journalist known to many as "Wassie", is a reo expert with connections to all of the major northern iwi. He starred in the movie Boy and has had a long career in Maori media.
Ms Mangu will provide strong competition. The leading voice for Tai Tokerau women, she comes with a significant degree of homegrown support and is known to stand and speak at Te Tii Marae at Waitangi.
However, her past unsuccessful attempts for the seat in 2002 and 2005, when she fought hard but finished off the pace as an independent, could be an important factor those on the panel will weigh.
Mr Tipene has less of a profile and ranks as an outside chance.
If Mr Shortland, principally from Ngati Hine, is selected, it will be in keeping with the type of candidates Tai Tokerau voters have preferred. Mana Party leader Hone Harawira and former Labour MP Dover Samuels are both big, larger-than-life characters, and the actor fits that bill.
Yesterday, Mr Shortland said he decided to stand because there was a grouping of Tai Tokerau and Maori Party supporters who had been "rendered silent" this year after the "implosion" of the party in the north.
The byelection would give them a choice and a chance to back the party.
"I don't want to soft-soap it. I think the electorate deserves better than people who would manipulate it to serve their own ends. I am talking about Hone [Harawira]."
He said he was ready to fight and mix it up with Mr Harawira but conceded the Mana leader had a huge advantage as sitting MP.
"Right now, the Maori candidate, whoever that might be, is so far behind they have to turn around and run backwards to give themselves the feeling they're in front."
Maori Party co-president Ken Mair wouldn't be drawn on who he saw as the strongest contender.
Labour's candidate, list MP Kelvin Davis, heads to Waitakere today with leader Phil Goff to get his campaign off the ground.