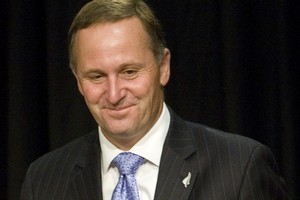 Prime Minister John Key saying the death of a New Zealand soldier in Afghanistan affected the handling of the limousine controversy is "repugnant", Labour leader Phil Goff says.
"The BMW saga was in the news well before the soldier's tragic death," he said.
Mr Key today told NewstalkZB the Government did not handle the BMW limos issue well because it was preoccupied by the death of Private Kirifi Mila and the visit of Australian Prime Minister Julia Gillard.
Green Party co-leader Metiria Turei said the "excuse" was new low for Mr Key.
"New Zealanders deserve more than feeble excuses from a prime minister who is prepared to be so extravagant," she said.
"And if he is going to be so extravagant and benefit his ministers with brand new limos, then he needs to be up front about that. Not hide behind other issues, certainly not hide behind the death of a New Zealand soldier."
A decision to replace the Government's 34 three-year-old BMW limos with new ones sparked anger last week, with the move seen as hypocritical against a backdrop of ministerial calls for spending restraint.
Mr Key said he had asked for full information, and if Crown Law approved, he would release details this afternoon.
"...We didn't cover ourselves in glory, it wasn't terribly well handled but probably when you see the facts, if I can release them, I think people will be surprised why we bought them but they won't be surprised when they see the facts," Mr Key said.
The new cars sell commercially for about $200,000 each but the Government gets a discount for bulk buying. The actual cost has not been stated, for commercial reasons. The former Labour Government bought the cars and the Internal Affairs Department agreed to a clause to renew them.
Mr Key said he never knew about the agreement. In Parliament last week, Cabinet Minister Gerry Brownlee admitted Finance Minister Bill English was told about the deal on December 17 - although that was after Internal Affairs signed.
Labour has said Mr Key must have approved the spending but his office said that was not the case.
Mr Goff said Mr Key should stop being dishonest and take responsibility.
"I find it difficult to believe any prime minister could be so much in the dark about what's happening in his own administration, even if he wasn't paying attention, so that just leaves the option of making up stories to try to put himself in a better light," he said.
- NZPA